At UANI, Christie Predicts Trump Will Scrap Iran Deal, Lieberman Oks Trump's UN Speech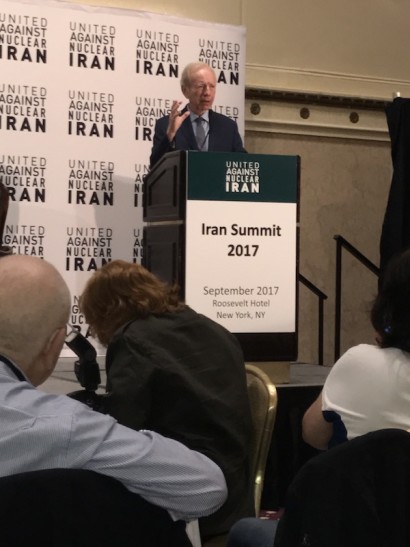 by Heather Robinson
On Tuesday, as President Trump threatened to "totally destroy" North Korea if the rogue regime attacked the U.S or its allies, New Jersey governor Chris Christie as well as former governors Jeb Bush, Bill Richardson, and former Senator Joe Lieberman gathered with foreign policy wonks and diplomats at the Roosevelt Hotel ballroom in midtown Manhattan for the annual summit of the United Against Nuclear Iran (UANI) conference.
At the conference, though Christie qualified that "it's always dangerous to predict what Trump will do," he said "I'll be surprised if he doesn't de-certify the [Iran deal]."
After the conference, Lieberman sat with me for a one-on-one interview in which he discussed Iran's nuclear ambitions and North Korea's aggression, and gave a qualified thumbs up to Trump's fiery words at the United Nations Tuesday morning.
There was also ample discussion of Cory Booker's defection in the fight to prevent the Iran deal's passage, with Christie characterizing Booker's decision to vote in favor of the Joint Comprehensive Plan of Action (JCPOA), or "Iran deal," as "inexplicable." Christie added, "Of all the votes on the JCPOA, Cory Booker's was the most shocking."
More to come.
This entry was written by Heather Robinson and posted on September 19, 2017 at 10:07 pm and filed under Blog.