A majority of one? Keisha Knight-Pulliam shows up for Cosby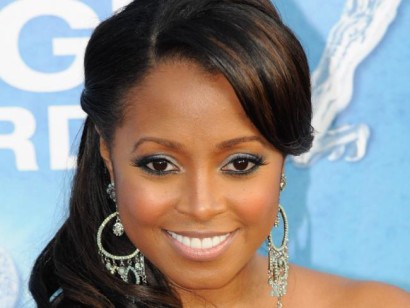 by Heather Robinson
During his sexual assault trial, Bill Cosby has received support from a number of friends and fellow actors. But only one has actually traveled to the Pennsylvania courtroom where the 79-year-old actor stands trial in order to support him in friendship: Keisha Knight-Pulliam, who played Cosby's on screen youngest daughter, Rudy Huxtable, in the 80's sitcom "The Cosby Show."
Knight-Pulliam doesn't claim to know whether Cosby is innocent or guilty of sexual assault, and she has made clear her presence is not meant to assert she does. She makes clear, too, that she didn't personally experience anything negative from him along those lines, and over the course of many years of association with him she found him to be loving, supportive, decent and helpful to her.
She has also made clear that, through her non-profit, the Kamp Kizzy Foundation, which is dedicated to fostering girls' self-esteem, she has gone out of her way to actually do something to support girls (rather than just complain about inequities, which has, in this writer's view, sadly become the default for many a modern feminist). Finally, she has repeatedly stated that her presence should not be interpreted as in any way an apology for sexual assaulters or abusers. She simply believes in "innocent till proven guilty" and also in showing support – not ostracism – toward an old friend in a difficult situation who is being roundly attacked and pre-judged.
That hasn't stopped Knight-Pulliam from being attacked by "liberal" commentators for not joining the crowd.  At The Daily Beast, for instance, in his piece "The Ivanka Effect," writer Ira Madison III engages in glib dismissal of the quaint notion that a trial may be of value in bringing the truth to light ("I'm not particularly sure what kind of 'truth' Knight Pulliam expects to hear in the confines of a courtroom that she hasn't already had access to," he writes " … Either you believe these women's stories or not, but it's almost cowardly to accept the ruling of a court as your 'truth.'")
Is that so? One wonders if, were someone he cared about, and judged to be innocent, on trial, at risk of permanently losing his reputation and liberty, Madison III would be so dismissive of the idea that trials serve an important purpose.
Here, in her own words, is Ms. Knight-Pulliam: "Right now, it's the jury's decision, and it's the jury's job to decide guilt and innocence. It's not mine or anyone else's. As an advocate for women and with my nonprofit the Kamp Kizzy Foundation, which is all about empowerment, self-esteem for girls, I don't take these charges lightly. I don't condone sexual assault in any way shape or form."
She has also said, "[E]veryone's entitled to their opinion, but we still live in a country where you're innocent till proven guilty … And I understand everything that's happened, and me being a feminist and believing women—no means no and I get that—but, just so you know, I did work with him for a really long time. I love him dearly still and that isn't the man that I know."
Contrary to what the writer of "The Ivanka Effect" asserts, in our time of feminist bandwagon-jumping, in which any woman who says or writes a critical word about anything women are doing en masse risks instantly being labeled a traitor to the female sex, or should I say "gender" – there is no career boost to standing alone on principle, or standing with the accused in friendship.
But just because we are women, and just because sexual assault exists and is terrible, does not mean we pre-judge anyone who is accused, and become a hysterical mob who refuse to see nuance where it may exist.
It takes real guts to stand up apart from a crowd and not pre-judge someone.
Keisha Knight-Pulliam is one gutsy woman in my book.
This entry was written by Heather Robinson and posted on June 16, 2017 at 1:39 am and filed under Blog.