Iraqi Parliamentarian Supports Trump Travel Ban, Says 'It's not anti-Islamic, It's anti-Iranian regime'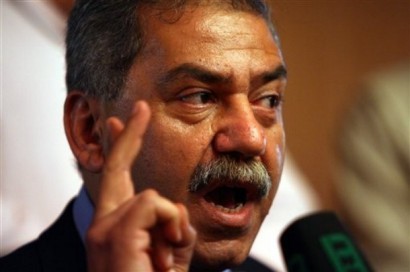 by Heather Robinson
Iraqi Parliamentarian Mithal al Alusi traveled to Washington D.C. late last month to meet with top officials in the Trump White House. I met with Mr. Alusi in Washington D.C. in the aftermath of his meetings with U.S. officials, and conducted a series of interviews with him.
In our interviews, Alusi shared with me his perspective on the depth and breadth of Iranian influence in Iraq and throughout the Mideast, his support for President Trump's "travel ban," and his hope that Trump's Administration will usher in "positive change" for Iraq and the Mideast.
The countries specified as part of the new Trump policy – Iran, Iraq, Sudan, Somalia, Yemen, Libya, and Syria – are those possessing "the same security vacuum" and have been infiltrated by Iran's regime, according to Alusi. He maintains that their infiltration by Iranian intelligence, and not their Muslim-heavy populations, is the main reason for the ban on immigration from these places.  And as a result, he does not perceive the ban to be anti-Muslim.
"This decision, this policy, is an anti-Iranian policy and not an anti-Muslim policy," he said.
Alusi said he supports Trump's immigration ban because he does not want to see Iran successfully infiltrate the U.S. – something he says "top terrorists" are determined to do.
Alusi has paid a heavy price at the hands of terrorists for his principles. While an official in the de-Baathification Commission of Iraq's interim government, he spoke out in favor of normalizing relations between Iraq and Israel and traveled to Israel to attend a counterterrorism conference. Traveling to Israel is a taboo in Iraqi society, and as payback for Alusi's bold move, in 2005, terrorists murdered Alusi's two grown sons, Ayman and Jamal. Refusing to leave Iraq, Alusi campaigned and won a seat in Iraq's Parliament. At present, he is serving his third term. A steadfast advocate of normalized relations between Iraq and Israel, he has visited the Jewish State several times during his terms of office in Iraq's Parliament. As a result of his actions, Iraq's Supreme Court ruled it is no longer a crime for Iraqis to travel to Israel.
Alusi told me that terrorists, including but not limited to ISIS and others supported by Iran's regime, have as their top goal a strike on New York City. He also said they fear President Trump.
"Of course they are scared," Alusi said. "Of course now Trump will make it difficult for them. But we should not be naïve to believe it's so easy to control such kind of top terrorist ideology. That's why I really do believe with respect to all the opinion regarding the new administration, when we talk about security in America, security in Europe, security in the Mideast, in Israel, in Iraq, we should not use security as the tool for our political differences. All of us we paid a huge price which we suffer from the terrorists. We Iraqi Arab Muslims, we will support Trump in his policy because we don't want to see the terrorists succeed to reach New York again."
More to come.
This entry was written by Heather Robinson and posted on March 16, 2017 at 12:14 am and filed under Blog.