Palestinian Human Rights Activist Calls Out Arab 'Leadership'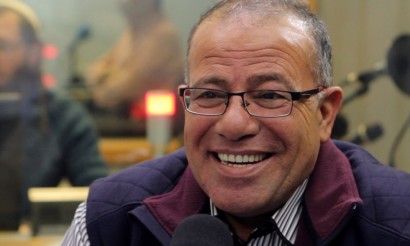 by Heather Robinson
Bassem Eid, founder of the Palestinian Human Rights Monitoring Group (PHRMG), spoke boldly last week in Manhattan at an event hosted by The Lawfare Project, a nonprofit organization that champions free speech (including providing legal defense for critics of radical Islam and for pro-Israel individuals, including those in the Arab Muslim world).
Eid, a human rights activist who has worked to document human rights violations by both Palestinian armed forces and Israeli armed forces against Palestinian civilians, discussed factors and forces that he believes continue to drive the seemingly intractable Israeli-Palestinian conflict.
Eid has been described by The Washington Post as "defying a taboo" among human rights organizations and workers in the Palestinian territories against criticizing violations of human rights by Palestinians against other Palestinians.
Eid stressed that corrupt Arab leaders are keeping the Israeli-Palestinian conflict going.
"Not one Arab leader today is interested in solving the Israeli-Palestinian conflict," he said. "They stay in power under the umbrella of championing the Palestinian cause."
In other words, if the Israeli-Palestinian conflict were resolved, these rulers, most of whom brainwash their restive populations to channel their frustrations toward Israel, would have one less tool for remaining in power. "This is one of the tragedies of the Palestinian people, my people," he said. "That and the lack of leadership among the Palestinian people."
Pointing out that Yasir Arafat died in France with at least a billion dollars, Eid said, "Corruption has become a qualification for leadership in the 21st Century, especially for Muslim leaders. They are sacrificing their own people for their own prosperity."
He added, "Arafat was one of the most disastrous leaders in the world. He created the Second Intifadah, which almost destroyed us [Palestinians], and then he died and we are stuck in the mud … I don't even think Palestinians are talking about him anymore. "
Eid seemed to argue that ordinary Palestinians are better, smarter, and more pragmatic than their leaders. Most Palestinians have lost trust in their own leadership, he said.
"Most Palestinians today care more about dignity than identity," he said. He added that when he went to the Palestinian territories recently, "People were saying, 'When is Israel going to annex us?' I said to some of them, 'Abbas is fighting to get you a country.' They'd say, 'Leave the country to Abbas.'"
He thinks that the Boycott, Divestment, and Sanctions (BDS) movement popular in Europe and on U.S. college campuses is an out of touch, unproductive movement championed by ill informed meddlers who have no grasp of what would truly help the Palestinian people.
"BDS calls for boycott of Israeli products, but how can I boycott Israel?" he said. "Many Palestinians even in the West Bank would love to be issued an Israeli working permit to go to work in Israel. They can earn four times as much money there as they can in the territories." He added, "The situation is quieter now because people are much more busy working."
Eid characterized certain segments of the international community as self-serving in radicalizing his people. He takes issue with United Nations Relief and Works Agency (UNRWA), the UN agency that administers schools in the Palestinian territories and in Arab nations, including Jordan. "From Oslo to today, hundreds of billions of dollars have been spent, and the Palestinian Authority hasn't created one job," said Eid. "Instead, $300 million a year in U.S. tax dollars goes to schools that are brainwashing children" to hate Israelis, Americans, and the West, and "even to become suicide bombers."
"Teachers in Jordan – the U.S. is paying their salaries – are teaching children to become suicide bombers," he said. "UNRWA can only survive on incitement and hatred."
He added, "Abbas will tell you, 'We are teaching only peace' because he never read the curriculum."
Eid seems to believe that potential for improvement in Israeli-Palestinian relations lies on an economic track.
Though he said he is "not a political person" and not making an endorsement, Eid mentioned one of the U.S. Presidential candidates. "Donald Trump said something interesting last March during the AIPAC Conference. He said, 'I am the one who can solve the Israeli-Palestinian conflict because I'm a businessman,'" said Eid. "I used to say the Israeli-Palestinian conflict is a business conflict, not a political conflict."
Eid has hope that in the coming generation, a "charismatic" Palestinian leader will emerge to introduce change and allow for a more positive climate. But when asked (by this reporter), what U.S. leadership can do to identify and strengthen genuine moderates among the Palestinians, including such a leader, Eid said he believes, "It will take at least a generation for new Palestinian leadership to emerge."
This entry was written by Heather Robinson and posted on September 24, 2016 at 5:35 pm and filed under Blog.