Can Trump Evolve?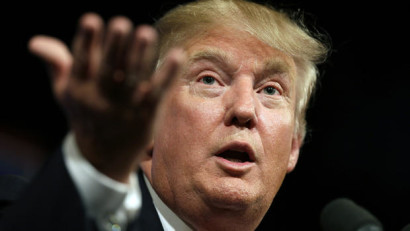 by Heather Robinson
Donald Trump and Hillary Clinton are in a dead heat in key states, according to Quinnipiac University poll results released Tuesday.
This latest poll reinforces the massive gender gap. From today's Pittsburgh Post-Gazette:
What is clear is that women strongly prefer Ms. Clinton and men strongly prefer Mr. Trump.
"This election may be good for divorce lawyers," said Mr. Brown, who described the gender gap as "massive."
In Pennsylvania, women prefer Ms. Clinton 51-32, and men prefer Mr. Trump 54-33.
The other states the poll covered are Florida and Ohio.
Also from the story:
"Six months from Election Day, the presidential races between Hillary Clinton and Donald Trump in the three most crucial states — Florida, Ohio and Pennsylvania — are too close to call," said Peter Brown, assistant director of the Quinnipiac poll.
A few thoughts:
Women, especially single women, have emerged in recent years as one of the largest growing blocs of voters: in the 2012 Presidential election, for instance, unmarried women comprised a notable 23 percent of the electorate, including 40 percent of the African-American population, close to 30 percent of the Latino population, and about a third of all young voters.
Women are uniquely politically empowered in 2016. And not just because there is likely to be a female at the top of one major political party's ticket, but also because the other major party's likely nominee, Donald Trump, has stumbled repeatedly over women's issues during the past ten months on the campaign trail, and will absolutely need to persuade women to trust him about issues that are important to them.
In other words, it's looking more and more like the election of 2016 is in the hands of women.
One of the poll's other striking revelations is that Bernie Sanders beat both Trump and Clinton in terms of favorability and that he would beat Donald Trump in a direct match up in all three states in November.
Given that no candidate in the past 66 years has won the presidency without winning at least two of these three battleground states, that is remarkable.
Though it would seem Sanders has no mathematical path to attaining the Democratic nomination, it is perhaps worth noting that his ability to theoretically "trump" Trump in these pivotal states suggests real vulnerability on Trump's side.
It only confirms that if Donald Trump is to have any chance, he needs to broaden his appeal beyond his faithful followers and seriously woo other groups of voters – including women, especially single ones.
Based on my coverage of the streets in New York City, Trump has a lot of work to do. These voters are mostly regular, working women, not supermodels who can be wooed with diamonds and Louboutins.
If Trump wants a real shot to beat Hillary Clinton, he will need to show real respect, and genuine concern and understanding for issues that matter to women.
Perhaps the pivotal question is: can Donald Trump evolve?
This entry was written by Heather Robinson and posted on May 11, 2016 at 1:17 pm and filed under Blog.