Thanks Anyway, Sarah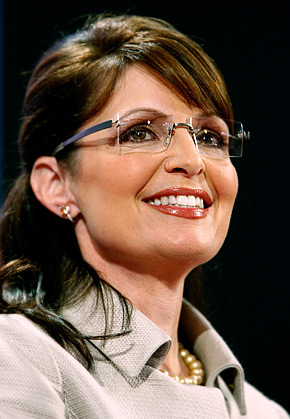 by Heather Robinson
In what seems like an effort to bolster Donald Trump, former Alaska Governor Sarah Palin announced this week that she will work to defeat House Speaker Paul Ryan by backing his primary opponent in Wisconsin. She is responding to Ryan's announcement last week that he's not yet ready to support Donald Trump, the presumptive Republican nominee. That announcement looks to have intensified a bad schism in the Republican Party that's getting worse.
I'm not sure Palin is doing Trump any favors here. I doubt that Palin will bring in any voters who wouldn't already be open to supporting Trump.
Though Trump doesn't seem to mind (and views any endorsement as a positive), Palin is viewed very unfavorably by most Democrats and Independents.
Of course, Trump is hardly going to tell Palin to get lost, I guess, and there may be some Evangelical Conservative voters who formerly supported Ted Cruz who might listen to her.
Seems to me, though, from a strategic perspective, Trump should be tacking more to the center and trying to appeal to more independent voters.
He needs to start seriously courting women voters if he wants a real chance at beating Hillary. Perhaps this could be the start of a charm offensive. But he would do well to cozy up to more ordinary women, working women, women who don't look like supermodels or trophy wives, and most of all, to start showing women some actual respect.
This entry was written by Heather Robinson and posted on May 8, 2016 at 7:15 pm and filed under Blog.