Raisman's Hava Negila floor routine was a winner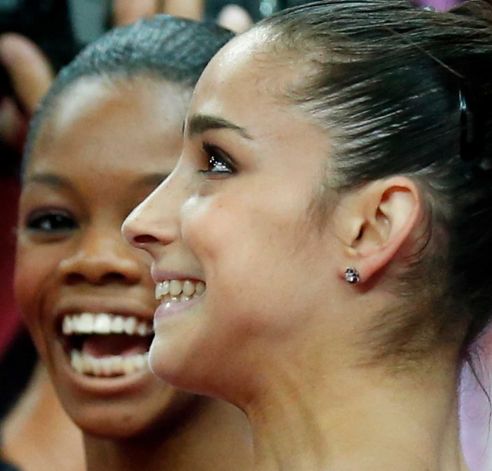 What a thrill it was to watch the U.S. women's gymnastics team win the gold.
Watching Aly Raisman finish the night on Tuesday with a phenomenal floor routine to the tune of "Hava Negila" was especially moving. Perhaps because of the International Olympic Committee's refusal to honor, with a moment of silence, the Israeli athletes slain by PLO terrorists at the 1972 Olympic Games in Munich, I hadn't been feeling excitement over these Olympic Games. The disgusting nature of that attack, and the further insult to the athletes' memories committed by the IOC–as well as the emergence, in recent days, of horrific details, including that the head of the IOC in 1972 was a Nazi sympathizer who refused to provide the Israeli athletes with requested security–had been depressing me. But watching Aly, a Jewish-American who served as the "anchor" of her team, lifted my heart.
She was beautiful, athletic, and ebullient. And although her choice of "Hava Negila" – a song of Jewish celebration –may not have been political, the fact that she selected it as music for the floor routine that helped her team clinch the gold made me, as a Jewish-American woman, especially proud. Mazal Tov also to Raisman's teammate Gabby Douglas, who took the gold last night in the all-around, making her the world's top gymnast.
After all the empty blather from the IOC about sport transcending politics, they couldn't be bothered to respect one moment of silence for athletes murdered. Yet this year as ever it was the athletes themselves — including these young sportswomen on the U.S.'s beautiful multi-racial, multi-ethnic, and multi-religious women's gymnastics team–who embodied that ideal.
This entry was written by Heather Robinson and posted on August 3, 2012 at 5:56 pm and filed under Blog.