Israel deports African Christian Zionists; activist: "There is no justification for putting families in prisons"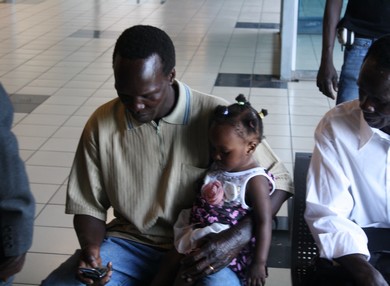 Shocking news out of Israel as it is being reported that Israeli officials have begun arresting what are expected to be tens of thousands of Africans residing in the Jewish State, and deporting them to detention camps.
The first to be arrested are Sudanese Christians, many of whom have resided in Israel for the past six years or more, according to Sigal Rozen, public policy coordinator of the Hotline for Migrant Workers, a Tel Aviv-based nonprofit human rights organization that protects the rights of migrant workers.
"They are a very Zionist community, the South Sudanese," Rozen said, adding that the Hotline for Migrant Workers opposes both these people's deportation and the manner in which it is taking place.
"We object to the deportation; we think there are other ways to encourage them to return to [the newly independent nation of South Sudan,]" she said.
In July 2011, South Sudan became the world's newest country.
Sudanese-American activist Simon Deng, whose historic 300-mile "Freedom Walk" from the United Nations in New York to the Capitol in Washington DC gained him an audience with President Bush and Hillary Clinton and helped him broker a meeting between Bush and South Sudan's leader, Salva Kiir Mayardit, expressed disappointment and surprise at the Israeli government action.
In particular, he condemned the manner in which the deportations are being conducted.
""There is no justification for putting families in prisons," he said.
Recently, Israeli Prime Minister Benjamin Netanyahu gave a speech in which he spoke of the Southern Sudanese as the "first" of the Africans living in Israel who will be deported.
Some months ago, the government declared the South Sudanese—most of whom had been working peaceably in Israel's hotels and restaurants for years—were not allowed to work anymore, according to Rozen.
Rozen said the government started offering money to Sudanese families in Israel who would be willing to "voluntarily" repatriate to South Sudan, and that several planeloads of Southern Sudanese left on that basis. Then, however, Israel's government stated it would give 1,000 Euros to anyone who voluntarily left, but that they had to register to leave within five days or be arrested—a policy which does not encourage voluntary emigration but mandates it, she points out.
Moreover, the government began arresting South Sudanese and holding them in "prisons," where it gave them the option to sign the "voluntary" acceptance of deportation, according to Rozen.
"Because of the extremely hard and deteriorating economic situation in South Sudan, The United Nations High Commission on Refugees advised [Israel] the [South Sudanese] should only go voluntarily," said Rozen. "But after taking their work permits and arresting them, there is nothing voluntary about this."
She added, "[Israel] gave them refuge for 5 years; nothing would have happened if [Israel's government] allowed them to go with dignity back home."
Deng points out the irony that the Southern Sudanese Christians, who are now a  community of only 500 people living in Israel, are Christian Zionists who claim great affinity for Israel; nevertheless they are being deported ahead of other Africans seeking refuge in Israel. (In all, close to 60,000 Africans, many of whom are Muslims hailing from Eritrea or Sudan's Darfur region, reside in Israel).
Deng traveled to Israel in March and met with Israeli government officials, including Israel's ambassador to South Sudan, who he says disagrees with the government's present policy, to try to hammer out a solution to the issue. Deng proposed that the South Sudanese residing in Israel be given 12 months to save some money and make arrangements to return to South Sudan.
"I told them, 'If after 12 months anyone is left we Southern Sudanese will take responsibility so Israel will not be blamed by anybody,'" Deng said. The idea, he explained, was to allow the South Sudanese, many who fled traumatic events in Africa and had not returned for many years, time and opportunity to make a humane transition.
He says the policy of incarcerating whole families of South Sudanese in Israel is a bitter slap in the face to people who saw themselves as Israel's best allies in Africa.
In particular, he is incredulous at the policy of incarcerating families with children.
"Families are now in prison in Israel, with kids, and I don't know what to say," said Deng. "There is no justification for putting families with children in prisons. I am disappointed."
Some South Sudanese families that have been arrested for failing to register for deportation were actually on their way to do so at the time of their arrest, according to Rozen.
Moreover, she and others at her organization have documented that sudden deportation of the Southern Sudanese forced many to leave without their savings, pay that was due them, and in some cases without medicine.
"A lot of people left bank accounts open with money—some left jobs and couldn't take their pay because they were detained," she said. "We met 88 people with bank accounts–people who did not have opportunity to collect their savings. Others left without collecting salaries and five people couldn't collect their medicines."
Deng pointed out that recently Salva Kiir Mayardit, the President of South Sudan, stated his intention to build his nation's embassy in Jerusalem to recognize it as Israel's capital.
"He is the first world leader ever to say that," said Deng. "Now people will say to him, 'You are a fool. Do you see what the Israelis are doing to your people?'"
Rozen's organization recently released a study, "Cancer in our Body," documenting racial incitement, discrimination, and hate crimes against African asylum seekers in Israel. It is available online.
This entry was written by Heather Robinson and posted on July 18, 2012 at 6:15 pm and filed under Blog.