Up up and away with JICNY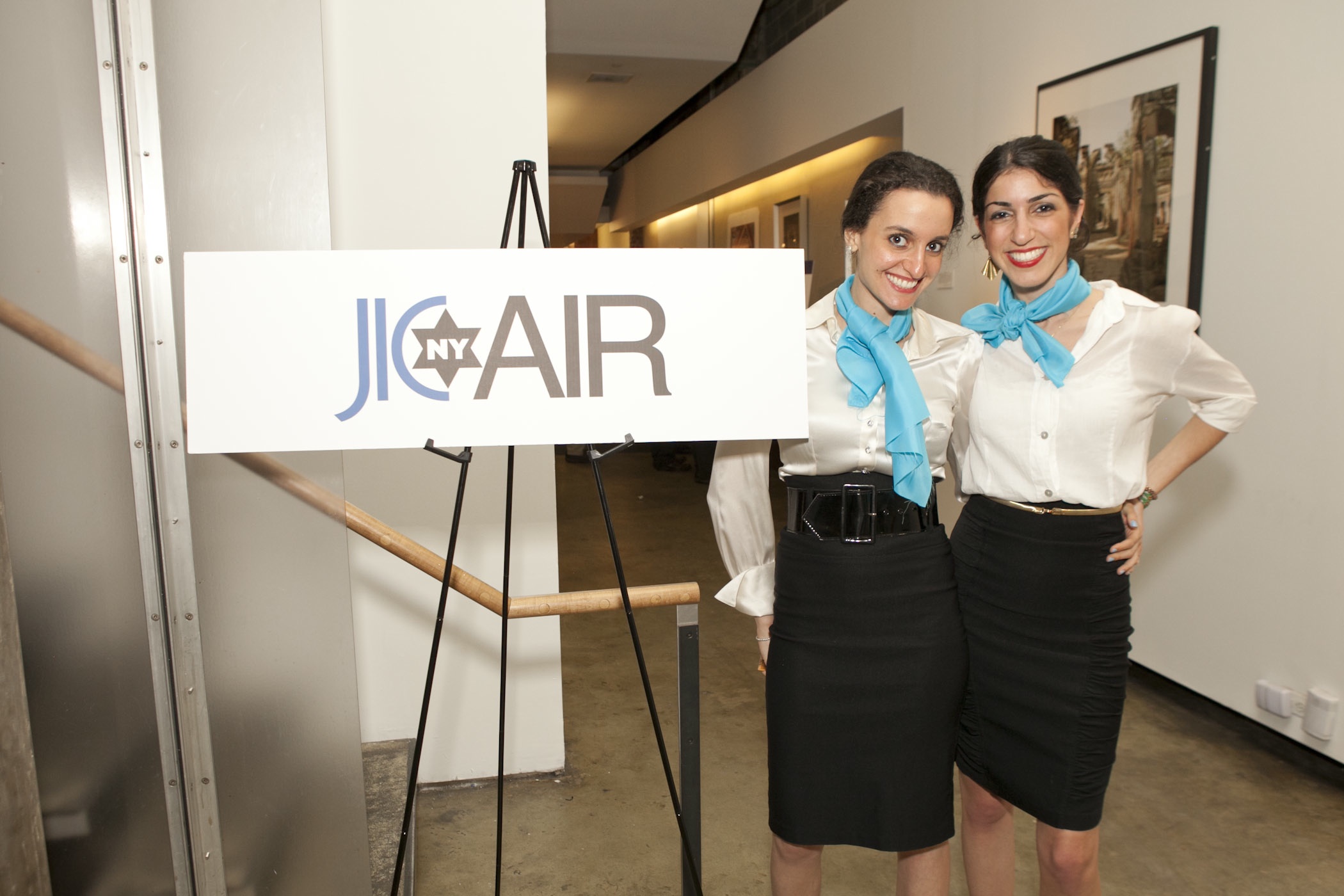 Last night I was fortunate to attend the yearly gala for Jewish International Connection New York (JICNY). Founded by Gavin and Jodi Samuels and Steve Eisenberg, the organization holds over 200 free and low-cost events a year and provides a home away from home for young Jewish individuals and couples who have come to New York from around the world. At JICNY's events, which include Shabbat dinners in private homes and a regular Upper West Side Torah study and discussion with Eisenberg, attendees who hail from Paris to Perth dish with those of us from Pikesville to Pittsburgh (yes, those of us from less exotic destinations are cheerfully welcomed, too).
The theme of the evening was JICNY Air, and the Prince George ballroom on East 27th Street was festooned with decorations of faraway locales and studded with food stations offering traditional Eastern European Jewish favorites like perogis as well as burritos and sushi.  A Gipsy Kings cover band played festive flamenco-style tunes and, in perhaps the most uniquely delightful part of the evening, faux "flight attendants," circulated among attendees asking stuff like, "Excuse me, where is gate B20" —  while wearing crisp white shirts and blue scarves, 60's style (see above). Pretty cute, eh?
Jodi and Gavin — a power couple in the truest sense of the word, as both work full-time, raise three beautiful and sweet children, (one with special needs), and still find the time to man this organization, which has facilitated the meeting of 89 couples (is this giving anyone else an inferiority complex?) circulated among guests. I had the privilege of interviewing them several years ago for the New York Daily News and am happy to report they are still going strong.
In remarks to the attendees, Jodi stressed her own experience as a young woman, having immigrated to New York from Johannesburg, South Africa, in shaping her vision for JICNY.
"I know what it's like to be an immigrant in New York," she said. "My vision for JICNY was to be a home away from home. to achieve my vision, I needed two things: an amazing supportive husband, Gavin Samuels, and an amazing partner in Steve Eisenberg."
Afterward, Jodi told me that the event raised half of JICNY's yearly budget for its events to host over 10,000 people.
This entry was written by Heather Robinson and posted on June 14, 2012 at 5:49 pm and filed under Blog.