'Game Change' expected to reinforce anti-Palin bias; scare women away from politics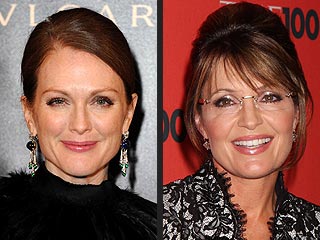 Just came across this Christian Science Monitor piece analyzing the portrayal of Sarah Palin in HBO's "Game Change," the film about the 2008 Republican presidential campaign that aired Saturday night. I missed it, but plan to watch it on demand. Hopefully it will be something other than another hit job on Mrs. Palin, most of whose fiercest critics still know very little about her record of managing the state of Alaska.
The CSM piece quotes a professor of Politics and Media at California State University, Sacramento, saying she notes increased reluctance among her female students to "even consider" political involvement because of the treatment women politicians like Ms. Palin have received upon entering the national arena. Her comments (see below) seem to refer mainly to the show, and how its depiction will likely influence young women:
"This absolutely sends the message, 'Do not run,' to young women," she says, adding, "This shows them they will be treated differently."
The professor says she has noticed a growing reluctance among her female students "to even consider" political involvement. They see many women politicians subjected to a double standard when it comes to family and clothing issues, she says.
A film like "Game Change," portraying the behind-the-scenes pain the then-governor went through as she moved from the wilds of Alaska into the national spotlight, will only serve to reinforce young women's doubts and misgivings about participating in the body politic, she adds.
What a shame that the voices of vociferous and often ill-informed critics have in some sense drowned out the voices of reason on the subject of Mrs. Palin–who was by most non-partisan accounts a very fine governor–and even spooked some young women from entering politics.
Given the viciousness of attacks on Mrs. Palin and even on her children, I can understand and respect these young women's feelings. As one good friend said recently of Mitt Romney, who appears to be a decent man and certainly a successful one, "Why on earth would anyone with so much going for him subject himself to the kind of abuse he will get in order to do that job?"
Is it too much to hope that "Game Change" will depict the tough and determined Mrs. Palin as more than a twit or a victim? Probably. But here's hoping.
At any rate, it will be a relief to see the former Governor depicted by actress Julianne Moore (pictured alongside Palin above). It would be a relief to see her depicted by anyone besides the mediocre, opportunistic Tina Fey, who capitalized on the anti-Palin hatred that seized many people who flattered themselves that they were well-informed during the 2008 campaign. Ms. Fey milked a repetitive and not-so-funny impersonation of the former Governor to enhance her own career by leaps while contributing to the deeply ironic public ignorance of Palin's actual statements and her career as a public servant.
This entry was written by Heather Robinson and posted on March 10, 2012 at 8:45 pm and filed under Blog.