Andrew McCarthy: We Could Not Successfully Get Terrorists Without Help of Muslim-American Patriots & Chilling News: Top Terrorist Al-Awlaki Trained U.S. Muslim Chaplains at Pentagon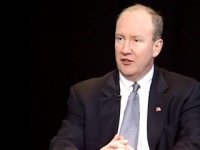 Radical Muslim cleric Anwar al-Awlaki, an American-born terrorist on the CIA's kill or capture list who yesterday released a tape calling for the death of Americans and is considered one of al Qaeda's top ideologues, participated in training Muslim chaplains to serve in the U.S. Armed Forces.Apparently, Awlaki's participation in training Muslim chaplains was initially reported back in December 2003 by The Wall Street Journal's Glenn Simpson, who also reported that, while serving as imam at a mosque in San Diego, this hard-core Islamist radical  "counseled" two of the Sept. 11th hijackers.According to Simpson, Awlaki, whom some in the press have dubbed the "new bin Laden" because of his leadership role in al Qaeda in the Arabian peninsula and his charismatic taped appeals to fellow radical Muslims to engage in violence against Americans, has participated in the training of at least 75 military chaplains and lay personnel in the U.S. This training was conducted under the aegis of the Institute for Islamic and Arabic Sciences in America (IIASA), the branch campus of a Saudi University that the Pentagon engaged for the training of Muslim chaplains until 2003. In 2004, the FBI, customs, and the IRS raided the Institute.Perhaps most chilling of all, given his former job training U.S. Muslim chaplains: Awlaki has been linked to Ft. Hood shooter Maj. Nidal Hassan.Earlier today I attended a briefing held by the Washington D.C.-based think tank Center for Security Policy (CSP). Speakers included a terrorism expert who delivered the news that Al-Awlaki trained U.S. chaplains. As mentioned above, this has been reported before; my guess as to why it was presented today as news is the emergence of yesterday's videotape, in which U.S.-born Awlaki, who is a top terrorist in Yemen, calls for attacks on his fellow Americans.While it may not be "news" in the strictest sense, it is suitable for CSP and others to remind the public that this man infiltrated our armed services. The fact that a spiritual mentor to  two of the 9/11 hijackers who is now in a leadership position in al Qaeda trained U.S. clerics, some of whom are probably serving in the U.S. armed forces at present, is cause for alarm. Unbelievably, I also learned today that at one point, Awlaki–at that time considered a "moderate" Muslim–was hosted at a luncheon at the Pentagon by the U.S. Army's Office of Government Counsel.Also speaking at today's event was Andrew McCarthy, former chief assistant U.S. attorney, who made the point that, in raising awareness about efforts on the part of radical Muslims to infiltrate America's institutions, he and others concerned with this stealth terrorist movement are not "smearing everyone with a broad brush" or trying to cast aspersions on all American Muslims. To the contrary, he spoke of the vital cooperation of patriotic Muslim-Americans that helped him prosecute terrorism in the 1990's."We could not have successfully prosecuted terrorism in the 1990's were it not for the assistance of patriotic Muslim-Americans," he said. "We recognize we have allies among Muslim-Americans and we need to cultivate them."He went on to say that he interviewed numerous Muslim-Americans for intelligence jobs in the 1990's and recalls that several turned down job opportunities because "we couldn't guarantee the court would never reveal their identities."What these Muslim-Americans feared most, he recalled, was not threat to life and limb but "being ostracized within their communities" were their cooperation with the government's efforts to nab terrorists known.It is sobering to think that even in the U.S., or at least in some pockets of it, so much hatred and anti-American radicalism is being cultivated. Given the information that Al-Awlaki trained military personnel, and in the wake of the Fort Hood shooting, it seems to me that political correctness should not get in the way of a thorough investigation. Anyone who trained under this man should, albeit in ways that are respectful of civil liberties, be watched.From The Chicago Examiner, by homeland security writer Cynthia Hodges:On Monday, November 8, 2010 a dangerous new video by Muslim Cleric Anwar al-Awlaki surfaced on extremist web sites.  In the video, Awlaki is seen instructing Muslims to kill Americans without further instruction, because it is "either us or them."Anwar al-Awlaki, the first American citizen on the CIA's kill or capture order in the War on Terror has been referred to as the "next bin-Laden" due to his ability to inspire other terrorists throughout the west, including many other Americans.Terrorism expert Patrick S. Poole now reports that al-Awlaki is a former instructor at the Institute for Islamic and Arabic Sciences in the United States.As a branch of the Ibn Saudi University of Riyadh, the university was certified to train Muslim chaplains for the Pentagon through 2003. After a government raid by FBI and U.S. Customs in 2004, the school closed it doors.The radical Muslim extremist was vice-president of an Islamic charity that federal prosecutors identified as an al-Qaeda front, a group still doing business with the U.S. government, winning a $3.5 million partnership to help fight child labor and trafficking in 2008.As an instructor at the Institute, Awlaki reportedly trained at least 75 Muslim chaplains whose current activities are unclear. Interestingly, in December 2003 Awlaki's role as instructor and relationship with 9/11 hi-jackers were linked by a  Wall Street Journal  reporter but has not been mentioned since.In addition to three of the 9/11 terrorists, Awlaki is has been linked cargo plane to the Fort Hood shooter, the underwear bomber, the recent attempt to bomb Times Square.In the weeks after 9/11, Anwar al-Awlaki emerged as a moderate cleric denouncing terrorism – even leading prayer services on Capitol Hill. At the time, U.S. officials were unaware of his meetings with the 9/11 hijackers. The FBI  became suspicious after discovering that Awlaki met with associates of both bin Laden and the "Blind Sheikh," Omar Abdel Rahman.Anwar al-Awlaki, believed to be living in Yemen has proven to be an dangerously effective leader of the group al Qaeda in the Arabian Peninsula.On October 29, President Obama acknowledged that al Qaeda in the Arabian Peninsula "continues to plan attacks against America, our citizens, and our friends and allies". The remarks were made during a press conference confirming that two printer cartridges containing bombs were discovered aboard cargo planes headed to the United States.How much exposure to give terrorists creates a dilemma for the media. However, to have the information and not alert Americans or down play the threat could be devastating.
This entry was written by Heather Robinson and posted on November 9, 2010 at 11:52 pm and filed under Blog.