Sudanese-American hero to hunger strike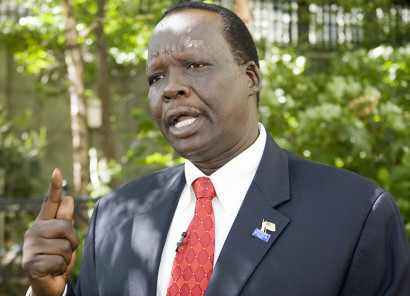 by Heather Robinson
Simon Deng, an escaped slave and human rights activist, has announced the start of a hunger strike to prompt President Obama to show leadership in bringing an end to violence in South Sudan.
"Starting on May 15, I will be starving myself outside the White House until the U.S. makes clear that the war in South Sudan is unacceptable–and we will not stand for it," Mr. Deng, a former swimmer on Sudan's national team, has written in a letter he will soon share with President Obama.
He is urging President Obama, who has planned a trip to Africa in June, to speak "with force and conviction" to the rulers of South Sudan, a nation which would not exist without America's leadership. He is asking Obama to create "an interim government in which all stakeholders are represented, the rule of law is instituted, and human rights are respected."
Mr. Deng is also asking the U.S. President to appoint a "credible and respected" envoy to counsel the new government, help monitor how aid funds are being spent, and report back to President Obama. Suggested possibilities for the role of envoy are Senator John Danforth, or Secretaries of State Colin Powell or Madeleine Albright.
I had the honor of meeting Mr. Deng when I was assigned to profile him for The New York Daily News several years ago (please see picture above). At that time, as an activist, he was urging the U.S. government to play a more active role in the region and support the national aspirations of South Sudan's Christians. Not long afterward, in 2005, under the leadership of President George W. Bush, Sudan's Christian South and Muslim North signed a Comprehensive Peace Agreement (CPA), allowing the South to break away and form an independent nation.
Between the 1950's and that 2005, millions of Southern Sudanese – both Christians and animists, or practitioners of native religions – lost their lives to a militant Islamist government in Khartoum, Sudan's capital in the north. The CPA was brought to end the violence.
Since that time, however, despite high hopes, violence has erupted in the new nation, leaving 70,000 South Sudanese dead, 2 million displaced refugees and some 4 million on the verge of starvation, according to the United Nations. This recent violence stems from an intra-party dispute between South Sudanese President Salva Kiir Mayardit and South Sudanese Vice President Riek Machar which has spilled far beyond the capital, Juba, and turned into wholesale ethnic cleansing between the tribes of the President and Vice President, Dinka and Nuer, respectively.
Deng, whose 9-year-old niece in Sudan and many other extended family members have died in the fighting, believes that a leadership vacuum has created conditions ripe for the chaos and violence to proliferate, and that only American leadership at this point can stem the tide of bloodshed.
Mr Deng's letter to President Obama includes this appeal: "You alone can force a peaceful end to this insanity. It will not require 'U.S. boots on the ground,' but it will require consistent engagement, seriousness of purpose, and a willingness to both make threats and follow through on them. In short, it will require your leadership."
More to come.
This entry was written by Heather Robinson and posted on May 15, 2015 at 12:43 am and filed under Blog.