A thing of beauty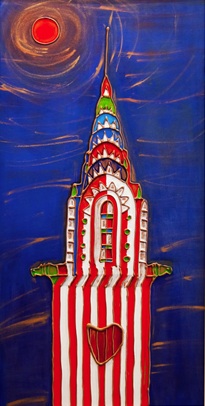 I'm off to Israel for a week as part of  JNFuture's first Jewish Leadership Institute mission. While I can't wait to meet with members of the Knesset, enjoy the beach in Tel Aviv, and pray at the wall Friday night in Jerusalem, I am terribly sorry I won't be here in NYC next week for a benefit art show being hosted by my dear friend Shadin Hossain. I met Shadin several years ago when I profiled him for the New York Daily News. For several years running, he has hosted beautiful events at his art and framing shop, Galleria, to benefit people in need around the world.
In addition to the Herculean energy he musters to run a business and organize so many benefits (which have raised many tens of thousands of dollars for charities such as World Vision, which helps pull families out of poverty in the developing world by addressing root causes), Shadin is an extremely talented artist.
This year, he has blossomed as a painter, and will be selling his own work at the benefit. Proceeds will go to The Smile Train, a charity that provides corrective surgery for children born with cleft palate syndrome in the developing world.
In keeping with Shadin's boundless generosity, the benefit art show, which will include refreshments and sparkling conversation, is free and open to the public. It will take place Thursday, July 28, from 6:30 pm till 9pm at Galleria on Third, 529 Third ave. between 35th and 36th Sts. Shadin's art (pictured above) will lift your heart. Children are welcome.
This entry was written by Heather Robinson and posted on July 22, 2011 at 6:50 pm and filed under Blog.