Is Hillary Clinton Concerned About a Pennsylvania Upset?

From The NY Observer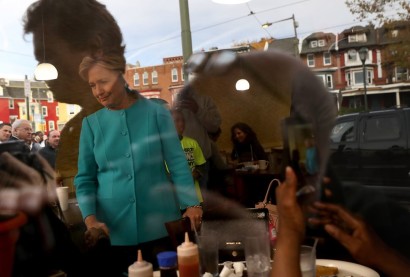 New pockets of support for Republicans in Western Pennsylvania could produce surprises in a state where every vote will count
WESTERN PENNSYLVANIA—Is PA in play?
Recent polls suggest a tightening of the Presidential race in Pennsylvania, the "Keystone State," whose residents have chosen the U.S. President 75 percent of the time since 1900.
With pundits characterizing Pennsylvania as "in play," and some, including former New York City Mayor Rudy Giuliani, predicting the state's 20 electoral votes will go red (making Donald J. Trump the first Republican to win the state since George H.W. Bush in 1988), I decided to hit the streets this past week to get the pulse.
As a New York City journalist who frequently visits my hometown of Pittsburgh, I'm well acquainted with its unique history as a former steel town, and home to many Reagan Democrats who helped turn the state red in the elections of 1980 and 1984.
Given the up-to-the-minute, shifting factors, the race is uniquely hard to predict in this state, with its conservative-leaning small towns, and the traditionally liberal strongholds of Philadelphia in the East and Pittsburgh in the West.
Because there is no early voting in Pennsylvania (and the state offers voting by absentee ballot with excuse only), significant voting had not taken place prior to FBI Director James Comey's decision to re-examine the matter of Hillary Clinton's handling of classified information. Clinton has not locked in an early lead here, as she has in states like Nevada and Florida. And a Harper poll released Sunday showed the race in a dead heat in Pennsylvania, with Trump and Clinton each at 46 percent.
Clinton has made several trips to Pennsylvania in the race's final days. On Saturday night she decamped to Philadelphia, where she appeared at a free concert with pop star Katy Perry. And twice over the past two weeks, she has come to Pittsburgh, speaking in the city's Squirrel Hill neighborhood in late October, and last Friday at the city's Heinz Field, where the Pittsburgh Steelers play.
She's returning to Pittsburgh yet again: on Monday, the final day before the election. (Trump is headed to Scranton that day).
Clinton's coming three times in the campaign's final two weeks—not just to Pennsylvania, but to Pittsburgh, the state's western Democratic stronghold—prompts the question: are she and her campaign worried there could be an upset here?
It seemed worth discussing the horse race with Western Pennsylvanians at random, with an ear toward hearing whether Donald Trump has any chance here.
Last week at the International House of Pancakes in Homestead, a former steel town adjacent to Pittsburgh that has seen precipitous population decline since the Pittsburgh steel mills shut down in the 1970-80's, I spoke with eight patrons, six of whom self-identified as Democrats, two of whom identified as Independents. Five were men, three were women; of these, four said they were planning to vote for Clinton, three declined to tell me whom they are voting for, and one said he is voting for Trump, but specifically asked me not to print his name because "I'm afraid to say anything by name in case something will come back at me, because my neighborhood is all Democrat."
In all, eight of the two-dozen people I interviewed at random in several Pittsburgh neighborhoods said they are voting for Trump. While on the surface, it doesn't necessarily sound like a winning landscape for Trump, given the extremely traditionally Democratic nature of these neighborhoods, to hear that one fourth of voters approached at random were definitely voting for him, was striking.
What's more, the nature of some comments—remarks about gay Second Amendment supporters for Trump, for instance—also hinted that there may be new pockets of support for Republicans here in Western Pennsylvania that could produce surprises on Election Day in a state where every vote will count. Also noteworthy was talk of a "backlash" by voters who believe the media is biased against Trump.
At Silky's Bar in Bloomfield, an Italian neighborhood, I spoke with two men at happy hour, both of whom are planning to vote for Trump, and both of whom, like the man in IHOP, declined to let me use their full names.
Both self-identified as Libertarians and Second Amendment supporters, and said they are registered Independents.
Scott, an engineer, 36, said he had reservations about voting for Trump that were assuaged by his choice of Mike Pence as running mate.
"If Trump had chosen [someone] other than Pence I couldn't vote for him," said Scott. "Pence can rein Trump in."
He spoke of what he views as the media's bias against Trump as "backfiring" and prompting him to support the candidate. He does not believe that Trump is a racist or that most of his supporters are.
"It's a slander campaign against Trump," Scott said. "People commonly identify by gender and race and the slander campaign plays to that."
Justin, age 37, who works in public relations for Carnegie-Mellon University, said he will vote for Trump on the strength of Trump's support for the rights of gun owners. He added that he has multiple friends in the gay community who will also be voting for Trump.
"I have a friend who is a gay, pro-choice, conservative Second Amendment supporter who is planning to vote for Trump," he said.
In Squirrel Hill, the Jewish Pittsburgh neighborhood where Clinton spoke two weeks ago, most voters of the dozen with whom I spoke are planning to vote for Clinton.
At Mineo's Pizza House, Kate Schouten, 34, a management consultant, expressed the neighborhood's majority opinion. "People at work, younger people who were not planning to vote before … feel it's important to vote for Hillary," she said, adding, "I haven't seen any Trump signs around here."
But even in Squirrel Hill, several volunteered they are voting Trump.
"I'm appalled by Hillary's lack of concern for security," said Aaron Dyer, 56, a lawyer. He added he finds Trump appealing because he is a businessman. "Accountability to financial restraints and need to meet budgets is important."
"When I saw the liberal media panic, I knew [Trump] was the right guy," said Steve Humberfeld, 49, a software engineer who was having a drink at the Squirrel Hill Café.
In the past year, nearly 100,000 Pennsylvania Democrats have become Republicans—more than twice the number of Republicans who have become Democrats—and more than 243,000 new voters have joined the Pennsylvania Republican Party.
With the populist upsurge of the Brexit vote having surprised European elites, perhaps a populist upsurge of ordinary Pennsylvanians will surprise at the polls.
"Donald Trump came in from outside, speaking his mind, and turned everything upside down," said Joe Heatherington, 55, a Squirrel Hill resident who is unemployed. "I have nothing against Mrs. Clinton, but 30 years is enough. If she wanted to change something, she had a chance.
"Let's roll the dice, and hope it doesn't come out too big a stink."
Disclosure: Donald Trump is the father-in-law of Jared Kushner, the publisher of Observer Media.