New Yorkers On Which Candidate Is 'Most New York'

From The New York Post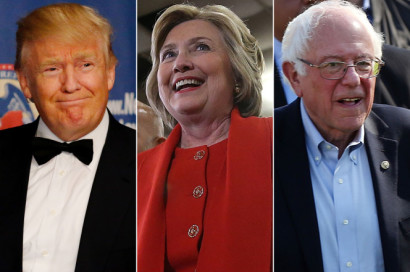 For the past several weeks, we've been treated to recurring images of candidates chowing down at iconic New York City restaurants and pretending to be regular straphangers. But who really pulls it off?
Several dozen New Yorkers interviewed across the city at random last week seemed to rate Bernie Sanders and Donald Trump the "New Yorkiest" candidates, with Hillary Clinton second and Ted Cruz — who is expected to lose the state by a wide margin — not even close.
"Sanders definitely represents my values, and I'm a New Yorker," said Danielle Diaz, 23, an EMT from Bushwick, Brooklyn, who switched her party affiliation from Independent to Democrat so she could vote for Sanders in Tuesday's primary. "He doesn't want money to influence politics so much."
"Bernie was raised in Flatbush, and he wasn't born into money or privilege," said Brooklyn College graduate student Stephen Ruggiero, 22.
At Nathan's Famous on Coney Island, Justin Medina, 19, said he was honored that Sanders stopped by his workplace. "People make fun about his talking about a token on a subway," he said. "Who cares? He fought for civil rights and justice."
But especially in the wake of Thursday's "Brooklyn Brawl" debate, other New York Democrats are questioning Sanders' fairness.
Carol Cohen, 71, a school aid who hails originally from Flatbush and lives on Long Island, said after the debate that, while Sanders says he believes in Israel's right to defend itself, "It's clear from the rest of his statement he doesn't believe it." Cohen, a Democrat, plans to vote for Hillary Clinton on Tuesday.
Carmen Bese, a retired teacher from Brooklyn in her 60s, sat in Junior's on Dekalb Avenue and said people give Hillary Clinton a raw deal. "She has experience," Bese said. "They say she's not a New Yorker but she's lived here for 10 years. They are critical of her because of her husband. She is an intelligent woman."
Still others say Hillary Clinton, like a real New Yorker, has had to fight hard to get ahead.
"Hillary has experience and she knows struggle," said Larry Redding, 49, a registered Democrat who lives in Bedford-Stuyvesant, Brooklyn, and works as a bicycle messenger. "Bernie has fought for civil rights, but what has he done after that? He just popped up."
Does he believe Hillary actually rides the subway?
"That happens with everybody," said Redding, referring to the oft-played news clip of Hillary re-swiping her MetroCard. "It only proves they need to change the MetroCard."
But, say Trump supporters, it's their candidate, builder and owner of various New York City buildings, who best reflects the energy and ambition of a city where American dreams are made.
Outside Citi Field in Flushing, Jay Achrak, 35, a clothing store owner from Sheepshead Bay, said Trump is the most real New Yorker because he isn't easily intimidated.
"People are afraid of him," Achrak said. "You know why? He's not part of the establishment. He crushed Jeb Bush. He destroys politicians one by one. Hillary is part of the establishment.
"Bernie is a socialist. Today's young people are not smart. They want free everything. They want to smoke weed and do OxyContin. God willing, Trump will be our next president."
Near the Queens home where Trump grew up, Jamaica Estates resident Michelle Agnello, who is 40-something and works in real estate, said she has heard Fred Trump, the candidate's father, used to hand out Christmas bonuses to workers at his buildings.
Some non-Republican New Yorkers also see Sanders as the antithesis of New York's practical, business-oriented mindset.
"Both Trump and Hillary embody most of what it means to be a New Yorker, working hard, being focused and successful," said Ernest Verrett, 45, a political independent from the Upper West Side who works as a director of business development. "If you start saying, 'I'd like everyone to make $100,000 a year,' but you've got no realistic plan to make it happen, that's the polar opposite of being a New Yorker."
Josh Auslander, 34, a business owner and registered Republican from the Upper East Side who was dining at Rocco's Steakhouse on Madison Avenue and 27th Street, said he's supporting Trump because he likes "the idea of running the country like a business." He added that because New York City "sets trends in fashion, art, media and business," it is fitting that the nation's attention is on New York as the primary approaches.
"New York is 90 percent the driver of the country, so I wouldn't expect it to be otherwise," he said.