Iraqi Parliamentarian, Friend of US and Israel, Calls for 'Mideast Summit' as Islamists Burn Ballots in Baghdad
From The Algemeiner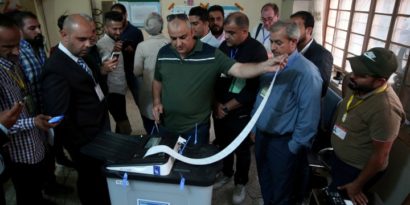 At the sunset of a three-term career in Iraq's Parliament, Alusi, 68 — who has decided against pursuing another term — remains committed to promoting counter-terrorism efforts and normalized relations between his country and Israel.
As Western attention intensifies on Iran's meddling in Iraq and across the region — a problem that this Iraqi maverick has warned of for decades — Alusi traveled last month to Washington DC, to urge the Trump administration to ensure that America, at long last, identifies and supports its "true allies" in the Mideast.
From Baghdad last week, Alusi said that he believes the burning of election materials in the capital was fomented by agents of Iran's Revolutionary Guard Corps, at the direction of Major General Qassem Suleimani — the commander of its division of extraterritorial military and clandestine operations.
"I did say it in DC, they will try to have chaos here," he said via a phone interview last Tuesday. "Iranian agent Qassem Suleimani of the Revolutionary Guard is trying to say to President Trump, 'You can do nothing in Iraq. I am the master [here].'"
A Sunni Muslim, Alusi is no stranger to controversy — or danger. Iraqi-born and bred, he was forced to flee the Middle East for his life in the 1970s, after he protested Saddam Hussein's human rights abuses. Following the US liberation in 2003, he returned to Iraq with his two grown sons and took a position as culture director of the de-Baathification commission in Iraq's interim government.
In 2004, he traveled to Israel to participate in a counter-terrorism conference at the International Institute for Counterterrorism in Herzliya. Before leaving the conference, he began receiving death threats. In an assassination attempt against him for daring to visit Israel, terrorists murdered his two grown sons, Ayman, 30, and Jamal, 22 — who both had shared his vision of helping to build a modern, democratic Iraq.
Refusing to be intimidated, Alusi remained in Iraq, got his political party — the Iraqi Nation Party — onto the ballot, and won a seat in Parliament in December 2005.
Alusi says that Iranian agents recently threatened his life and those of other Iraqi "liberals" — or non-Islamist politicians who promote human rights and are friendly to the West. He believes that he and others are no longer secure even in the International Zone of Baghdad, or the "Green Zone" — the heavily fortified governmental center within the capital.
"We are not secure, even in the Green Zone, because of the Iranian agents and Iranian killers," he said. "Iran's [agents] in Iraq published in the media threats to kill me. Anyone [that] says anything they don't like," their answer, says Alusi, is "not to discuss, but to kill. They are killers and terrorists."
Alusi has traveled to Israel several times while in Parliament, prompting a sea change in Iraq's official stance toward the Jewish state. After his first visit, he was "charged" with traveling to Israel — a capital offense under a Saddam Hussein-era law. In November 2008, however, Iraq's Supreme Court ruled in his favor, stating it was no longer a crime for Iraqis to travel — including to Israel.
After Alusi won his case, hundreds of his supporters greeted and celebrated with him openly on the streets of Baghdad. But in the years since, conditions have deteriorated for anyone in Iraq who stands up to Islamist extremists, Alusi says.
He plans to continue to advocate for an Arab counter-terrorism alliance, in cooperation with Israel and the United States, and for human rights across the Middle East.
In addition to allegedly burning ballot boxes, Alusi points out that Iranian-backed Iraqi Islamist "militias" recently conducted a "March [for] Jerusalem" on the streets of Baghdad.
"We should not trust a group of people who are terrorizing their own people, terrorizing neighbors in Iraq, Syria, and Lebanon, and who the next day will terrorize Israel," he said.
It is vital that the Trump administration identify and strengthen America's true allies in the Mideast, rather than attempt to "bribe" hardened terrorists, which he maintains have too often characterized misguided past "peace process" attempts, Alusi says.
The focus of a Mideast summit of Arab and Israeli leaders should be "drying up sources of terrorism, [and] restricting [Iran's] regime to a practical commitment not to manufacture nuclear, chemical, and biological weapons.
"Peace in the Middle East … cannot be achieved without the successful preparation of Middle East countries to defend themselves against the Iranian threat," Alusi says. "Those who imagine that peace can be achieved with the existence of the Iranian threat, will repeat the mistakes of the past."