Trump is missing out on showing the world his sweet side

From The New York Post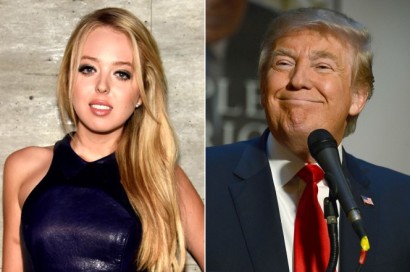 The Donald showed up a little late for the luncheon, and he brought a date — not on his arm, but in his arms.
It was 1997, an event for "young leaders" organized by the Jewish charity UJA-Federation. We were all surprised to see Donald Trump show up holding his 3-year-old daughter Tiffany, golden-haired and dressed all in white.
Trump carried Tiffany in, then referenced her several times as he spoke, as in: "I know you all paid to hear me, and you're getting two for the price of one today because I brought Tiffany."
He added, "Some people think it's funny that we named her Tiffany because of Tiffany & Co. [the jewelers], but I don't care. I think her name is cute."
All so different from the prickly hypersensitivity and defiance we've seen from Trump in recent months.
The mogul told the crowd of well-heeled young professionals that he'd brought the toddler along because Tiffany's mother, Marla, was sick that day
They passed close to me as he walked out afterward, holding Tiffany's hand. I noticed how much she resembled him. (She still does.)
Overall, Trump came across as very tender, loving and attentive to his child — deftly balancing his attention to Tiffany with his commitment to his audience.
I've thought about that day countless times over the past 18 months as I struggled to reconcile the campaign-trail Trump with the nurturing man I saw that day, one flexible enough to take over parenting duties because his spouse was ill.
He's kept the same spontaneity, which enables him to be funny and charismatic — but the sweetness is missing. (And he's rarely with Tiffany in public.)
As a single woman listening to Trump, I remember being moved that this important man was so caring and loving with his little daughter — and clearly proud of her.
Coming into the final stretch of the campaign, I wonder: Is Trump missing some opportunities to show some of that warmth, flexibility, and ability to connect?
Is the bold and uncompromising Donald Trump we see today — with his current wife, Melania, wordless and expressionless beside him as he steamrolls ahead — the only iteration of the man?
The crude boasts on that 11-year-old tape will make it hard for any undecided or independent voters — women in particular — to even consider turning out for him.
But if Trump acted as he did with Tiffany that day, maybe we'd think again. That man had the decency to take over parenting because his wife was under the weather. He didn't waste his words disparaging women as "pigs," "dogs" and "slobs," but instead focused on the positive.
That man had the depth and sensitivity to be delighted with an adorable, offbeat-looking daughter.
Not that all of his kids aren't admirable. Trump's four confident adult children are all successful, show real social conscience and appear good at sustaining relationships.
Ivanka is a businesswoman with her own clothing and accessories line as well as an executive in the family business and married mother of three. Eric runs a charitable foundation that has raised over $6.5 million for St. Jude's Children's Research Hospital, a nonprofit that provides free medical care to children with catastrophic diseases. Donald Jr. is a married father of five and an executive VP in his father's company.
Tiffany is a recent college grad preparing to take the LSAT.
It's hard to believe Trump could have helped raise them into such decent, hardworking, unspoiled adults — ones devoted to him, no less — if he were a monster or true out-of-control misogynist.
No doubt the rigors of surviving and thriving in New York City's business world, and the relentless push to get and stay ahead, won't bring out anyone's softer qualities. Nor will the often dirty business of politics, or the entertainment world with its pressure to be sensationalistic and extreme.
And in many ways, Trump's harshness may have helped bring him this far. But perhaps Trump's gentler, more decent side — the family man I witnessed that day with his daughter Tiffany — could save him in the final stretch.
Channeling that man who took over for his wife for the day and walked hand-in-hand with Tiffany might allow him to show a more vulnerable side and connect with voters, especially women.
Appearing more with both his daughters would at least help. And a sincere apology to the women of America for the insensitivity of some of his on-the-record remarks about women would be a good start.
As would an honest discussion about how he would feel if someone spoke about his daughters the way he has, at times, spoken about other people's daughters.
As my own father once told me, everyone is someone's child. If Trump could keep that in mind, and speak to American women in a way that shows he understands this truth, maybe America, including American women, could glimpse the man at his best.