The Presidential Race Is Giving NYC Comedy Clubs a Real Lift

From The New York Post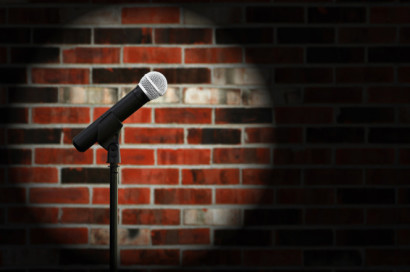 Time and again, the comic minds among us have guided Americans through challenging eras.
So perhaps it should come as no surprise that, in an age of stark political divisiveness and explosion of media (including social media), comics are helping us make sense of, and survive, what seems like an endless — and at times even an absurd — election year.
Especially in New York.
The city's arguably the epicenter of the comedy world, and here comedians and comedy-club owners say that greater interest in the presidential race is translating into increased interest in political comedy on stage.
"If Donald Trump is elected, it'll be four years of heaven for comedians and comedy-club owners," said Gabe Waldman, a comic and co-owner of Stand Up New York on the Upper West Side. (Waldman added that if Trump loses, the mogul is welcome to some stage time at the club, "with unlimited Sprite all night. But he won't be headlining.")
Other city club owners and bookers agreed that heavy media coverage of the presidential frontrunners this year has given comedy in New York City a boost.
"It's good for business," said Cris Italia, co-owner of The Stand in Gramercy. "People look at the late-night jokes on TV and want to see it in the clubs."
Caroline's on Broadway recently introduced a Monday night show called "Anyone Can Be President, Even Us" that has featured Judah Friedlander, formerly of the NBC sitcom "30 Rock," as well as Matt Goldich, a staff writer for "Late Night with Seth Meyers."
This election is "a field day for comedians," said Caroline's owner Caroline Hirsch. "I really think people expect comedians to talk about it."
Trump material is dominating the sets: On a recent evening at The Comic Strip Live on the Upper East Side, Modi Rosenfeld got the crowd roaring with an impersonation of Melania Trump on the campaign trail in Iowa asking, "What eees Walmart? Why eets everywhere?"
And at Caroline's, veteran comic Judy Gold quipped, "Donald Trump's only foreign policy experience is two of his three prenuptial agreements."
A few comics are taking swipes at Hillary Clinton, too. What punishment should she get for her conduct in the e-mail scandal? "Probably the guillotine," quipped Gilbert Gottfried.
Social-media interaction between comics and fans translates into heightened buzz and publicity for comedy clubs, with fans following the Twitter feeds of their favorite comics who appear on shows like "The Daily Show" and "The Nightly Show" on Comedy Central, "Full Frontal with Samantha Bee" on TBS and Fox News' "Red Eye."
It also "drives a lot of social interactions, which is kind of like free publicity" for the club, according to Amy Hawthorne, talent booker for New York Comedy Club in Gramercy.
On occasion sparks have flown in the club, with politically engaged audience members heckling the comics. Hillary supporters "have just started yelling things" in response to jokes about their candidate, including a crack delivered one night on stage by Hasan Minhaj of "The Daily Show" about how desperately Hillary wants the presidency.
"So many comics touch on Trump; there's always a loud response," adds Hawthorne. "People boo, or yell, 'Make America Great!' "
Tourists are enthusiastic about the political humor on offer.
"It's a good year for [political comedy]," said Shaun G., in town with his wife from Dallas and catching the early show at New York Comedy Club over the Fourth of July weekend. "Especially impersonations," he added, citing Kate McKinnon's depiction of Hillary on "Saturday Night Live."
Politically inclined New York City comedians suggest they view the comic's role as that of gadfly in a conformist age.
Camille Theobald, who took the stage at Stand Up New York, joking, "I'll vote for Hillary when she finally admits it was actually she who had the affair with Monica," spoke afterward about the role of the jester.
"Comedians are society's truth tellers," she said. "It's our job to make hard topics interesting. If people can laugh, they are opening their ears."
Perhaps in a nation of 325 million, the reality that few Americans feel genuinely inspired by either front-runner is an absurdity. Or as one comedy fan, Lynn Riggio of the Upper East Side, put it, "Whoever wins in November, we're going to need to laugh."
Then again, surely a country whose citizens can laugh together, can survive pretty much anything.