Bracing for the Virus, New Yorkers Carry On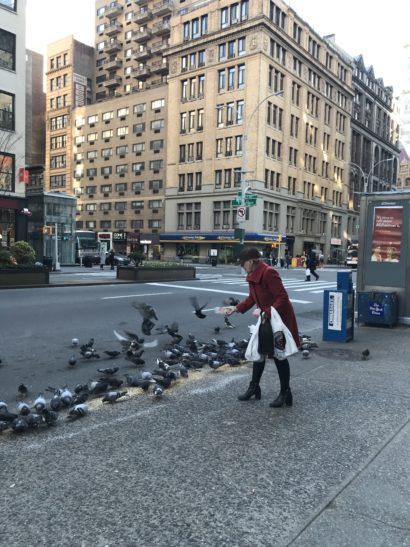 by Heather Robinson
Sunday March 15th New York City Mayor Bill de Blasio announced that due to coronavirus, the city's public schools were to be closed, as would bars and restaurants for all but takeout and delivery of food. Prior to the closures, I spoke – from a safe distance of six feet – with diners who were out, as well as New Yorkers in the city's parks. While we are a few days further into the crisis, for posterity, I wanted to post some of the interviews I conducted that day.
It's a paradox that at a moment of great alarm, when Americans most crave solidarity and companionship, we are being told to isolate. I'm all for preventive measures, even drastic ones, because I trust they'll save lives. But as we minimize our exposure to crowds, keep six feet away from friends and acquaintances, and wash our hands, let us keep calm and carry on – something New Yorkers have managed to do in recent crises from September 11th to Hurricane Sandy to the blackout of 2003.
Let's remember that while coronavirus is contagious, anxiety, too, is contagious – as are courage and solidarity.
I went for a long walk Sunday and spoke to fellow New Yorkers to see how they are weathering this strange and unexpected storm. What I heard and saw were a resilient people, remaining civilized and upbeat at a time of great fear and upheaval. I maintained social distancing, but felt it was important to share some of my fellow New Yorkers' perspectives from these tense days.
Prior to the mayor's announcement regarding closure of restaurants and bars, families and individuals came out to eat, sat in the city's parks with friends, and ran in pairs along the West Side Highway.
While the streets were quieter than usual, young and old carried on their lives in the city, and one sensed a paradox: while isolation will, we hope, slow the virus's spread, it will come with costs we've only just begun to grasp.
Not a cloud shone in the sky as women and men sat a few feet apart from each other on benches in Madison Square Park in the sun, while sirens blared with what seemed like more frequency than usual, shattering the eerie calm.
Some voiced fears, and most stressed the need to be supportive of each other as well as to see one another – albeit respecting social distancing.
"I'm mortified," said Jess Peng, 23, a tech consultant. "But we've all been alone in our apartments, so we're trying to meet up, not be isolated. I bought a ticket to go home to Chicago, but canceled at the last minute. I'm scared of infecting my Mom and Dad, so I decided to stay here."
"Each of us are the only ones who are still in the city; our roommates went to their hometowns for the foreseeable future," said her friend, also 23, who didn't want to share her name. "We don't want to be isolated."
Madelyn, 73, and Arthur, 77, sat together on a bench in Union Square Park.
"In the 1950's, everyone was talking about polio, and if a child woke up not feeling well, it was terrifying," said Arthur, a retired statistician. "It was a similar feeling [to this]."
Arthur added, "It always gets worse at first, because people don't notice until it's too late, and the forces that be don't act with intelligence."
Almost without exception, younger people expressed a lack of fear.
"Nope, I'm not scared, because if it's my time, it's my time," said Yadalys Garcia, 19, a student and dance instructor. "I'm a teacher, and I had a cold, so I went to the doctor, and it was just a cold, as I already knew… The virus is real [but the] media circulates a lot of negativity. They have kids fearing everything in this world."
"I think people are blowing it out of proportion," said her friend Destiny Betts, 19, a student at John Jay School of Criminal Justice. "I've never seen people get so primal over water. You don't need to get panicked."
Saturday night, from across the street it appeared many bars and restaurants on Third Avenue were filled with twenty-somethings. "You can get a dinner reservation anywhere you want now," one young woman, asked for comment, volunteered as she and a bevy of short-skirted companions hurried past me on their way toward an Uber.
Some young people interviewed over the weekend from a distance stressed they felt fine, and not scared.
"This is a time to celebrate life and live as you can and as you want to, rather than be defeated by this thing you can't even see, you just hear about through the news," said August Campbell, 20, an audio production major at Mercer County Community College in Mercer County, NJ, who was eating lunch with friends at Sunburst Espresso Bar on Third Avenue. "Part of what's scaring people is we get so much information from our phones. It's e-mail after e-mail with a death count and it determines your mood; it's ridiculous."
In the upscale restaurants of Gramercy, a few patrons in their middle years had come out for drinks or dinner.
"Someone said, 'People will get sick and tired of staying home, they'll come out,'" said Nicola Marzovilla, 60, owner of i Trulli restaurant on East 27th Street. "I said, let them get tired, not sick." Marzovilla, who said his business had plunged by 80 percent in the previous several days, was offering customers a thirty percent discount on food if they picked it up themselves.
Marzovilla had gone to Chinatown for dim sum earlier in the weekend with his family in order to show his solidarity with fellow restaurateurs. "What, all of a sudden we can't eat there because they're Chinese? No, we went, and everyone there couldn't do enough for us … We need to be together."
He added that his home country of Italy, where his sister still lives, "is devastated." He has an 84-year-old mother, he said, and his daughters, ages 21 and 24, are in disagreement about whether or not to visit her. They both love her, said Marzovilla, and have different philosophies regarding how to handle the risk of isolation versus togetherness.
"We love to have dinner together as a family," he said. "At a certain point, if we all pull back [from her], there is no life."
Several men in their middle years, dining at the bar, spoke with me from a distance.
"I believe if I got it I'd beat it," said one, who gave his name as Brian, age 53, an attorney, who added he was flying to Florida on Jet Blue the next day. "I mean, I'd probably have a hard go of it, but I think I'd survive."
"It's surreal," said his friend Jimmy G., 59, a commodities broker, who stressed his belief that in certain ways, this crisis will be especially hard on the young. "They canceled March Madness, and these kids at the start of their careers were supposed to have agents looking at them."
"Being a student of history, I try to keep it in perspective," said Joseph L., 51, a management consultant. "This is not the Spanish flu, which was called that because Spain was the country that allowed newspapers to cover it …  Then again, if more light had been shone on the Spanish flu, more lives might have been saved.
Joseph added, "This is kind of like a storm … but it's beyond that, because you have evidence of what the storm is doing elsewhere so it's an eerie anxiety, as if an army is coming toward a fortress in the Middle Ages, and all the serfs are waiting behind the castle walls … Yes, it's something in between a storm and a calamitous catastrophe where we have weeks to prepare and we're not quite sure what to do except retreat behind castle walls to see how bad it'll be."
Alongside the anxiety, there was a camaraderie and a quiet strength.
An Indian-American couple walking together on Sunday on Park Avenue South in the golden sunshine expressed cautious optimism.
"I'm not worried for myself," said Vijeta, 32, a dentist. "If you keep your immunity strong, I think you're good, but it's dangerous for elderly people, so we must avoid exposing them."
Her husband, Rohan, 36, who works in finance, agreed.
"Banning public gatherings is good," he said, adding, "We need more tests."
Near the corner of 23rd Street and Park Avenue South, an elegant older woman tossed handfuls of bread crumbs toward large flocks of pigeons.
"I'm noticing how quiet it is," said the woman, Robin Miller, an artist. "A lot of people have left. We have to see how it'll go. Everyone is apprehensive … But it's important to get out and live your life."