Democrats on Stage Tonight – Good Luck!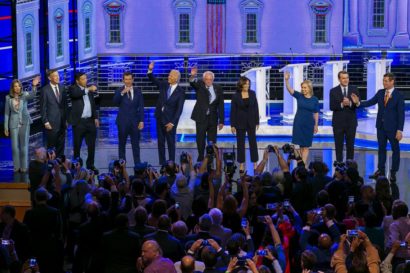 by Heather Robinson
Ok, I stink at headlines.
And the Democrats pictured above probably aren't tonight's lineup. 'Cause I stink at tech stuff.
Still. I have a sense of humor, something increasingly rare in today's cultish environment. Let's relax and enjoy the first of two nights of Democratic debate. Should be easy to keep it breezy since, as a conservative-leaning indie, I don't really have a dog in this fight …
Except that the nominee could be elected, so of course as Americans we all do …
Tonight Bernie and Liz Warren are on deck. It'll be a battle of the far leftists to see who can give more taxpayer $$$ away. Is that a buzz kill? Sorry!
I came across a video of President Obama from 4 years ago with a responsible message to the people of Central America. He said, "Do not send your children to our borders. If they make it they'll get sent back. More importantly, they might not make it" because of traffickers, the elements, etc… This was a responsible message. Will any of tonight's Dems be responsible enough to echo it? Let's see…
The candidates tonight are Beto O'Rourke of Texas, Montana Governor Steve Bullock (who?), author and activist Marianne Williamson (right on! Love the show the lady puts on!), former Rep. John Delaney, former Colorado Gov. John Hickenlooper (a.k.a "The Interloper") Rep. Tim Ryan of Ohio, Minnesota Sen Amy Klobuchar, South Bend Indiana Mayor Pete Buttigieg (a.k.a 'the smart one",) Sen Elizabeth Warren of Massachusetts and Vermont Sen Bernie Sanders.
Let the show begin…