Dem Debate #1: Who Will Next be Nicknamed?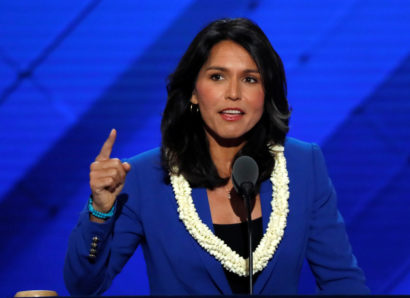 by Heather Robinson
Last night was the first Democratic Primary debate, and both Tulsi Gabbard (D-Hawaii – pictured above) and Cory Booker (D-New Jersey) made strong showings, while Beto O'Rourke petered out. Personally, I thought Tim Ryan (D-OH) and former Maryland Congressman John Delaney both also did well, each in his own way sounding quite conservative. With statements like "There's nothing worse than not being seen, nothing worse than not being heard … They [the Republicans] divided the working class … I'm ready to play some offense," Ryan definitely sounded like he was trying to peel off some of the Make America Great Again (MAGA) vote.
Delaney sounded pretty reasonable. His remarks suggested a lot of empathy for working class Americans. When he said, "This is about getting America working again," I believed his heart is in the right place. But the Democrats are going to have a hard time arguing against President Trump on basis of this economy. (By and large, including with historically low minority unemployment rates, America already IS working again).
Similarly, de Blasio paid a lot of voluble lip service to the "working people," clearly going after some of Trump's working class voters. Too bad New York City isn't in better shape.
General observation: the contenders sounded more moderate, and struck a more calm, tempered tone, with less histrionic Trump-bashing, than I expected. Maybe that's because I've been traumatized by too much time on Twitter and watching late night television, where continuous, knee jerk Trump-bashing has replaced creativity, new ideas, etc.? It will be a good thing for Democrats if their leadership realizes that kind of relentless negativity will not fly with any voters who are not already extreme partisans. In a divided country, it's the swing voters who will decide this election – as they always do in America's recent political history.
Cory Booker, whom I'm lucky to have met and heard speak in person on several occasions, wasn't kidding when he said he has "stood up to bullies before, and won." Many Americans got a first glimpse of his prodigious oratorical skills, his idealism, and his highly organized thinking. Whatever one may think of his recent positions (and I've been very disappointed by his decisions to support the Iran Deal and vote against the Taylor Force Act), he is a bright light and –  for those unfamiliar with his unique bio – has at times shown rare courage.
My unscientific theory as to whether any of the Democrats has a real shot in 2020 is whether they earn a nickname from President Trump in coming days. He seems to give nicknames only to serious contenders; as such, the Democratic frontrunners Joe Biden ("Sleepy Joe") and Bernie Sanders ("The Nutty Professor") have received them.
Viewed through a certain lense, a Presidential nickname is a perverse compliment, a backward badge of honor, an upside down golden star on the forehead, a strange comic magic spell Trump casts to chip away at the credibility of someone with his or her own magic, or potential to create obstacles for him.
Interestingly, South Bend Indiana Mayor Pete Buttigieg has already earned a nickname ("Alfred E. Neuman"). Does that mean our President views the Rhodes Scholar as a potential threat? Could be …
Who will be next to earn a nickname? Will it be another Rhodes Scholar, former Newark Mayor Booker? Or Rep. Gabbard, whose non-interventionist ideas contain an echo of Trump's own "America First" foreign policy creed and whose military background and youthful beauty seemed to appeal to some conservative viewers – who gave her the top rank by 3 to 1 margin in the Drudge Report's nonscientific poll today? (I'm guessing conservative white males are heavily represented among Drudge's readers).
Will it be someone who emerges from the pack this evening … ?
Whose fortunes will rise, and whose will fall? Who will be ridiculed, and perhaps turn tables? Who will have the first, or last,  laugh of the night, of the primary – or of the election?
Let the curtain rise on the political theater of 2020.
Let the show begin.