David Rosner, 53, Marine, Writer, and Comic, Rest in Peace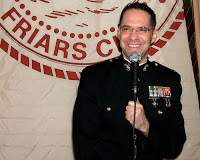 Just heard the tragic news that my old friend, David Rosner, USMC,  died suddenly in Washington DC earlier this month. Dave, who had recently been working at the Pentagon, was a Marine Corp veteran who served as an intelligence officer during Operation Iraqi Freedom and on the front lines during Gulf War I.
Much is said in American culture about the value of being a nonconformist and an individual, but few people truly break the mold. Dave did. He was not easily categorized–a Jewish Marine, at once very tough and, by his own admission, hypochondriacal, an intelligence officer who could read people at a glance, capable of the utmost discretion and seriousness but also loved comedy. He was, in addition to a career Marine, a comedy writer and stand-up comedian on the NYC scene.
We became friends after meeting on the street one day, after he insisted I had given him the eye. I don't recall that, and it turned out he was adept at picking up women in the street, and did so frequently at that time in his life (one of the reasons we decided, after going on a couple dates, to be friends). While I regret that we had not been in touch in about ten years, I remember our numerous years of friendship fondly. In addition to being funny and brilliant, Dave was a true connector; through him I met many fascinating individuals. What I will remember most, in addition to our warm personal connection, were his values, and the way he lived them: humor, courage in private and professional life, and perhaps above all, his ardent belief in building a Jewish-American future based on strength, not fear.
I wrote this article about Dave, or Rosner as I and others of our circle of friends called him, for The Forward in 2005. Dave Rosner was among those who believed in America's mission in Iraq, and put his body on the line for it. While history has perhaps not yet come around to Dave's vision of a democratic Mideast and fully secure Israel, individuals like him have helped build incremental change in the region. We should never forget that, whatever the Iraq policy's flaws, there were rough men like Dave who literally jumped in to defend us, and our values, in the shadow of terror after September 11th.
David Rosner was also a proud Jewish-American who loved the U.S. and Israel, and who believed that, while there is no shame in being a victim/survivor, being a Jew does not mean having to be a victim.
Semper Fi, Buddy.
I will not forget you.