Iraqi Foreign Ministry Officials Tried to Shelter Alleged Rapist, Murderer of Jewish Teen, Says Parliamentarian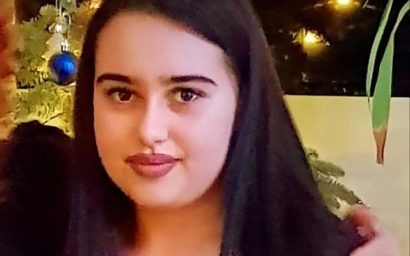 Iraqi Parliamentarian Mithal al Alusi told me Tuesday that officials in Iraq's foreign ministry attempted to prevent the extradition to Germany of a man accused of raping and murdering a German-Jewish teenager.
Susanna Maria Feldman, 14 (pictured above) was found murdered in the woods near her hometown of Mainz, Germany, on June 6. She had been missing since May 22. Officials say an autopsy shows she was violently sexually assaulted before she was killed.
In a phone interview from Baghdad, Alusi, a three-term elected Parliamentarian, said, "It was the position of Iraq's foreign ministry that this man should not be sent back to Germany to stand trial. They may be angry with me for saying it, but there were individuals who tried to block [his extradition]. A human being, a beautiful young girl … has been killed, and nobody has the right to block an investigation."
Ali Bashar, who has confessed to raping and killing Susanna, and his family of parents and five siblings, had been residing in Germany for numerous years as asylum-seekers. Bashar had an extensive police file dating back to 2016, and was a suspect in the gang rape of an 11-year-old girl at the migrant shelter where he was staying.
While German officials have claimed that anti-Semitism was not a factor in Feldman's rape and murder, Alusi says that he believes it was a factor in Iraq's foreign ministry's position that police in Kurdistan should not turn over Bashar to German authorities.
"They said, 'Police in Erbil have no right to send him to Germany [because] he did it to a Jewish girl.' For them, this is not a crime," said Alusi. "That is the position of this terrorist rubbish. There is no respect for women, no respect even for the life of a 14-year-old child. You see what kind of situation we are living in?"
An advocate of human, including women's, rights in Iraq, as well as of a free press, rule of law, and cooperation among democracies against terrorism, in 2004 Alusi broke the taboo in Iraqi society against visiting Israel, traveling there to attend a counterterrorism conference. He began to receive death threats while still at the conference, and on his return, terrorists murdered his two sons, Ayman, 30, and Jamal, 22, apparently as payback for their father's visit to the Jewish State.
Refusing to be intimidated or to leave Iraq, Alusi in was elected to Iraq's Parliament in 2005 and twice re-elected.
Alusi recently declined to run for another term. He believes that Iraq's government has been largely corrupted by Iran via widespread bribery of Iraqi politicians and financing of Islamist extremist militias, both Sunni and Shiite.
Alusi plans to dedicate himself to promoting counterterrorism cooperation and human rights in the Mideast.
More to come.