Caitlyn Jenner Celebrated by Shmuley Boteach, Orthodox Jews at the Plaza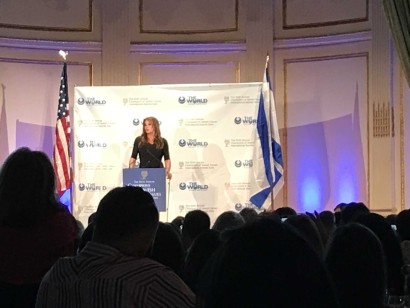 Last Thursday night, something occurred which, at this juncture in human history, could perhaps happen only in New York: an Orthodox rabbi, to the applause of a roomful of raucous, spirited, mostly Orthodox Jews, honored transgender activist Caitlyn Jenner in the Plaza Hotel. Also in attendance, and honored, were Treasury Secretary Steven K Mnuchin, Wall Street financier Michael Steinhardt, and the parents of Taylor Force, a U.S. veteran who was murdered by a terrorist on a Tel Aviv street while vacationing in Israel in March 2016.
Rabbi Shmuley Boteach, whose World Values Network hosted its sixth annual Champions of Jewish Values Awards Gala, commanded center stage in the venerable hotel, where he praised Jenner as "a great friend of the Jewish people and a great friend of Israel," and for having "the courage to get up and boldly proclaim that Israel is a bastion of human rights and should be emulated … in the Middle East."
Jenner spoke about what she sees as a bond between Jewish people and the LGBT communities, focusing on these groups' shared sense of otherness in the face of common enemies, pointing out that, "First of all, we seem to attract a lot of enemies, don't we? Tyrants, religious fundamentalists, white nationalists, radical Islamic terrorists, we got them all," she said. "I wear that hatred as a badge of honor. They hate us because of what we stand for: freedom, opportunity, diversity and most of all we stand for love."
Jenner also praised Israel for respecting the right of transgender Israelis to openly serve in the Israel Defense Forces. "They love their country," she said.
Opera singer David Serero kicked off the evening with prayer and song in his inimitable baritone. The evening was rich in humor, too. Boteach at one point awarded a dozen long-stemmed roses to his wife Debbie, whom he described as "long-suffering," thanking her for bearing him nine children, to which Jenner quipped, "Debbie, you are the bomb! I have 10 children, but it took me three women."
Effusive in his praise for President Donald Trump, Boteach exclaimed, "Gratitude to President Trump for recognizing Jerusalem as Israel's capital… I will never be afraid to show gratitude."
The rabbi also spoke of the need for unity in and cooperation across the political aisle.
"Where is the shame as we assail and attack each other?" he cried. "Muslim, Jew, Christian, Democrat, Republican, gay, straight, we are all God's children, for shame that we cannot see it!"
Treasury Steven Mnuchin, receiving an award, spoke about the administration's policy regarding Iran, hinting that President Trump plans to pursue tough policies if the regime does not cooperate in coming weeks.
"The sanctions against Iran worked," said Mnuchin. "If we don't change the agreement [with Iran], sanctions will go back in place to protect Israel and the rest of the world."
The several hundred attendees were a potpourri of portly, dark-suited middle-aged men and matrons wearing shiedels, modelesque dark haired Persian-American youth, sleek young couples from Soho, slim bespectacled intellectuals, 40-something singles, artists and reporters – a real New York City mix. Also in attendance was Miss Israel, Adar Gandelsman who, interviewed following the dinner, expressed a bit of happy surprise at the Orthodox attendees' embrace of Jenner, saying, "In Israel, it is not common for this to happen" because, she explained, there are more tensions between the religious community and the LBGT community. She added, "I'm so happy it happens here. It's a great honor for me."
Gandelsman's positive feeling was echoed universally by the attendees.
"The vibe was amazing," said Isaac Bar, 35, a dentist, of the Upper East Side. "Seldom do you hear an Orthodox rabbi so much in support of LGBT rights." Pointing out that Boteach's brother is gay, Bar speculated that this could be the reason for Boteach's sensitivity to the persecution of LGBT people.
Others referenced Rabbi Boteach's call for unity – and reflected on the bipartisan nature of the crowd.
"It was good to call attention to the reality that we are so divided in this country, and tonight, in the room, there were people from across the political spectrum, so united," said Matthew Tollers, 30, an office manager for a dental practice on the UES.
"It's very exciting; I was here six years ago for the first annual dinner," said Louis Chapman, of Teaneck, NJ, 60, an attorney. "Jewish people are very accepting, and it is nice when right and left get together and break bread and celebrate."
Acceptance of people of goodwill regardless of sexual orientation was a theme that other attendees echoed.
"I see Rabbi Shmuley as an influential person, and I look up to him for inviting Caitlyn," said Arianna Howard, 19, a student at Stern College. "In the Jewish community, it's ok to have different preferences. To many young kids, this can teach acceptance."
During the cocktail hour, which featured statuesque columns of sushi, Rabbi Boteach called stridently for quiet and respect of the boisterous crowd as Elisha Weisel, son of the late Elie Weisel and chief information officer at Goldman Sachs, paid tribute to his late father.
Also in attendance were Robbi and Stuart Force, parents of Taylor Force, a U.S. West Point graduate and veteran of Iraq and Afghanistan who was stabbed to death while on vacation in Israel by a Palestinian terrorist on March 8, 2016.
The Forces received an award on Taylor's behalf from Boteach, and spoke in favor of passage of the Taylor Force Act. Named for their son, the bill, which has passed in the House and awaits a Senate vote, would stop U.S. taxpayer funds from going to the Palestinian Authority so long as the PA continues to financially reward terrorists and the surviving family members of suicide bombers.
But while the earlier part of the evening was solemn, later on, comedian Elon Gold rocked the house, roasting Boteach about the rabbi's recent efforts, in cooperation with ex-playboy playmate and Baywatch star Pamela Anderson, to speak out against the proliferation of online pornography.
"Shmuley is doing an anti-porn crusade with Pamela Anderson," said Gold. "That's kinda like going on an anti- anti-Semitism crusade with Mel Gibson."