New Yorkers, Help Children While Beautifying Your Life this Holiday Season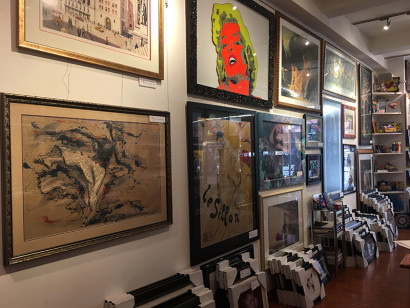 Happy December! This month, from December 1st until December 25th, Galleria on Third art and framing gallery in Manhattan will donate all proceeds from sales of a selection of framed artwork to the United Nations Children's Fund (UNICEF) in order to help the world's most vulnerable children in places like Bangladesh and Libya.
I've known Shadin Hossain, the owner of Galleria on Third – a beautiful framing shop and delightful art gallery combined – for a number of years, since profiling him for The New York Daily News in 2007. He is a true humanitarian and great friend. In the past, he has hosted parties featuring celebrities Carson Kressley, formerly of "Queer Eye for the Straight Guy" and Miami-based celebrity artist Romero Britto that raised tens of thousands of dollars for charities benefiting children, including The Smile Train and World Vision.
This year, Shadin is undertaking this project to do what he can for children, many of whom may be at the mercy of adults who are using them as weapons or sexually abusing them.
These are truly heartbreaking situations, unimaginable to those of us in the West who live a comfortable life. But with increased awareness of abuses in our own country, including sexual abuse, we should not forget about the innocent people, including children, in places where the abuse is far more widespread, and there is less recourse or help for victims.
If you find yourself in the Murray Hill section of New York, please check out the framed prints Shadin is offering and accomplish two goals in one – beautify your environment while helping the world's most vulnerable children. All proceeds from sale of the works Shadin has designated will go to help the children.
"As a small business owner, I have had the pleasure of being part of this community for almost 20 years," Shadin says. "Several years ago we began hosting annual events where our original and printed art work would benefit local and national charities. This year we will be supporting UNICEF to help children around the world, including in my home country, Bangladesh."
Galleria on Third is located on Third Avenue between 35th and 36th Avenues.