Dershowitz at ZOA: beware extremist entanglements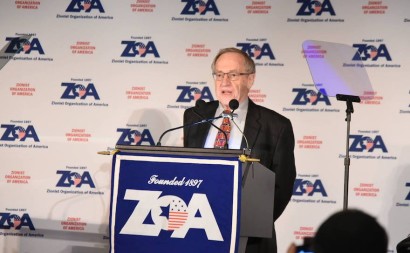 by Heather Robinson
Dashing expectations, White House Chief Strategist Stephen K. Bannon, who has come under accusations of anti-Semitism, did not come to the Zionist Organization of America's Justice Louis D. Brandeis Award dinner Sunday November 20th. But Professor Alan Dershowitz, who received the Mortimer Zuckerman Award, courted controversy in his remarks. And ZOA President Mort Klein and Home Depot co-founder Bernie Marcus also delivered remarks.
Accepting the award for his support for Israel, Dershowitz received both hearty applause and audible boos from the several hundred Israel-supporters in the large dining room at the Grand Hyatt Hotel in midtown Manhattan.
In his remarks, Dershowitz admonished the audience to beware support from, and entanglements with, extremists – both right and left.
"I think the ZOA is a great organization but it needs to be a home to all Zionists, not just the right wing."
He spoke of his personal dedication to keeping the Democratic Party in the U.S. pro-Israel.
Especially in light of the Democrats' potential choice of Keith Ellison as DNC chair, "it won't be easy," Dershowitz said.
He would like for ZOA to be an organization in which "Ben Gurion would be as comfortable as Begin," he added.
"I don't want to see the ZOA become the mirror image of J Street," Dershowitz said. In response to boos, he qualified, "It's not at this point – it's not – but we need to focus on consensus issues."
As an example of a consensus issue that all members of ZOA, liberal and conservative, can unite around, Dershowitz cited opposition to the Iran deal.
"There was no disagreement in Israel regarding how terrible the Iran deal was," he said. "It must become policy that Iran will never ever under any circumstances be allowed to develop nuclear weapons … Congress must authorize the President to take military action on the condition Iran begins development of nuclear weapons."
The hard left in the U.S. has become anti-Israel, according to Dershowitz, who cited Black Lives Matter's inclusion of an anti-Israel plank in their platform. He said he retracted his support for the group over this. "I support their cause, but I told the leadership of Black Lives Matter that I will never lend my name to any organization that discriminates against any group or people."
Dershowitz made the case that Jews and Jewish organizations should tack to the center.
He spoke about the "global trend toward extremism in England, with the Labor Party moving to the hard left, and the right moving more toward the right."
"Israel and Jews have always thrived at the center," he said.
Dershowitz cautioned that Jewish-Americans should be cautious about support from the hard right in the U.S.
"In the 1930's many Jews were seduced by Communism," Dershowitz said. "I'm a little worried there are Jews being seduced by the hard right. We must not become complicit in bigotry from either left or right." (A healthy portion of the crowd booed this statement. It was unclear as to whether Dershowitz was referring to Bannon, who was due to arrive later in the evening. Bannon didn't make it to the event).
ZOA Director Mort Klein spoke after Dershowitz, saying, "We stand up against anti-Semitism [and] anti-Zionism. And we stand up for people wrongly accused of anti-Semitism." (This statement, presumably a reference to Bannon, brought applause).
Bernie Marcus, co-founder and former CEO of Home Depot, capped off the evening with spirited remarks about how Israel has strengthened the world Jewish community.
"When Israel was born there were not Jewish bankers," he said. "We had to form our own [banking organization], Goldman Sachs. Israel helped us become stronger."
"The UN, various countries' media, the whole world, said we were wrong, and we were right."
"You have to be a fighter and don't take any crap from anybody," said Marcus.
"Mort Klein and his organization are not politically correct," said Marcus. "They say what many people in this country want to say."