Obama, in Africa, Echoed NYC Activist's Plea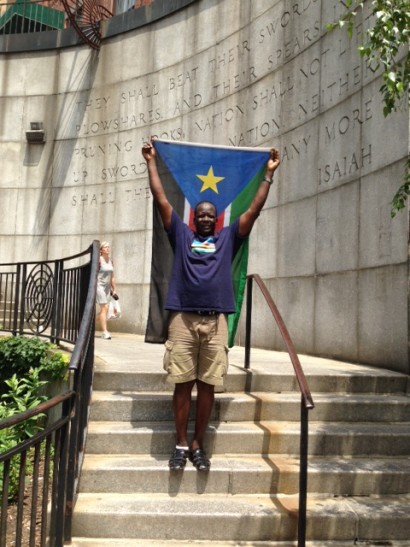 by Heather Robinson
On his trip to Africa last week, President Obama called upon combatants in South Sudan's bloody civil war to halt their violence. In demanding that South Sudanese leaders cease stoking the bloodshed that has claimed 70,000 lives in eighteen months and come to the negotiating table or else face personal sanctions, the President made the points local activist Simon Deng and other human rights activists had urged him to in a personal letter earlier this summer.
Obama called upon South Sudan's leaders to stop the bloodshed during a meeting of African leaders on Monday in Addis Ababa, Ethiopia, a stop on the President's trip to his homeland of Kenya, and other nations. He called upon South Sudanese President Salva Kiir Mayardit and former Vice President Riek Machar, to come to the table and forge a peace agreement by August 17th. 
Deng (pictured above) who earlier this summer undertook a 45-day hunger strike to raise awareness about the human toll of South Sudan's conflict, in which children have been targeted and which has claimed the life of Deng's 9-year-old niece, said this week that he is "satisfied" for the present with the way President Obama has addressed the violence in South Sudan. But, Deng stressed that he and other activists are looking to see sustained commitment on Obama's part.
"He said exactly what we wanted him to say, addressed the issue of Southern Sudan the way we wanted him to, and took the opportunity to address [other] problems on the continent of Africa," Deng told me. "In a way I am satisfied; I will be more satisfied when we get results."
An escaped slave and former swimmer on Sudan's national team, Deng ended his hunger strike in late June after 45 days. At that time he issued a statement in which he noted that President Obama was planning to visit Ethiopia and meet with African leaders about the crisis – something that had not been on President Obama's agenda when the trip was initially planned. Deng stated in his letter that, though he was "willing to lay [his] life down for the cause," he had come to acknowledge he is "more useful alive than dead" in his efforts to raise awareness about the humanitarian catastrophe.
To that end, Deng is planning to travel to Addis Ababa in less than a week to participate personally in peace talks.
Deng says that he is "optimistic" that the U.S. President's exhortation to the warring parties will be heeded, but that if it is not, he will continue to press for what he called "Plan B," or sanctions against individuals responsible for the ongoing bloodshed.
More to come.