In Times Square, 10,000 rally to stop Iran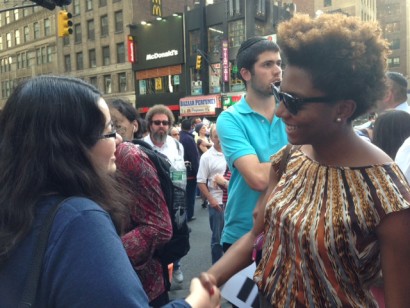 by Heather Robinson
An estimated 10,000 people turned out in Times Square Wednesday evening for a rally to protest President Obama's deal with Iran. Many demonstrators carried signs addressing Sen. Chuck Schumer (D-NY), whose vote many analysts view as being pivotal in the Congressional effort to block the deal (A two thirds majority vote in both houses would be needed to overturn Obama's veto).
Speakers included New York's former governor George Pataki; Jerusalem Post senior contributing editor Caroline Glick; and former Manhattan district attorney Robert M. Morgenthau, whose father, Henry Morgethau Jr., secretary of the treasury under FDR, was among the few prominent American Jews who tried to influence FDR to attempt rescue operations to save European Jews during the Holocaust.
Also in attendance at Wednesday's rally were numerous human rights activists, some whom expressed dismay that the deal's provisions include granting $150 billion in funds transfers to Iran.
Chloe Valdary (pictured above) a writer for The Wall Street Journal and Tablet magazine who has gained renown for articles written from the perspective of an African-American and human rights advocate who supports Israel, criticized the deal for its unfreezing of $150 billion in funds to a regime she characterized as misogynistic and terror-sponsoring.
"Both as a woman and a person of conscience, I feel it is a mistake to allow the leading state sponsor of terrorism (and for that matter global misogyny) to have access to billions in sanctions relief, with a fortified capacity to fund terror proxies in Syria, Lebanon, Gaza, and Yemen," she said. "And to continue exporting what it refers to as "the Revolution," which is an enterprise whose proponents believe that religious supremacy, disenfranchisement of minorities, persecution of dissenters and intolerance for independent thinkers are somehow the foundations for a civil society."
Demonstrators, many carrying signs that read, "Schumer-You Are No Shomer!" expressed dismay over a deal they regard as bad for Israel, the United States, and the rest of the world.
"I'm very disappointed because our President lied to us from the beginning of his Presidency," said Julian Rapaport of New Jersey. "From the start he said Iran would not have been allowed to get nukes. Now he says, 'In two months if we don't sign, they will have nukes.' How did we get from there to here? We are basically helping our enemy. It's the wrong approach.
Rapaport added, "We are afraid of them. We should tell them what to do, not them dictating to us."
"The President didn't raise a finger when Iranian young people demonstrated for freedom – he gave them the finger," said Michael Fandal, 66, a small business owner from the Upper East Side. "Doing this deal demonstrates the lack of earnest desire for world peace."
The deal makes Israel, but also the United States and Europe, more vulnerable, according to another protestor, who asked to be identified only as Alyssa.
"Iran and Russia got conventional weapons at the last minute; we completely capitulated on that," she said. "These intercontinental ballistic missiles are long range and they can reach Europe and the United States."