Iraq's Maverick

by HEATHER ROBINSON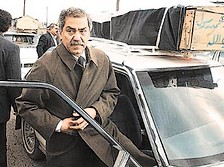 Last month, Iraqi parliamentarian Mithal al-Alusi contacted me by phone from Baghdad with an urgent warning that Iran could be a lot closer to attaining nuclear weapons than most analysts believe.
"Do they have an atom bomb? Not yet," he told me. "Can they build an atom bomb, a dirty bomb? Yes…. Americans believe humans can work 50 hours in a week, but [they] can work 24 hours in a day. They can build a bomb very soon."
Last week, al-Alusi, a secular Sunni, took this message on the road — at extreme personal risk. He made a surprise visit to a counterterrorism conference at the Herzliya Institute for Policy and Strategy near Tel Aviv, Israel, where he decried Iran's meddling in Iraqi affairs and spoke of the vital importance of cooperation among democratic countries in gathering intelligence to fight terrorism.
"Partnership between Iraq, Israel, Jordan, Kuwait, Turkey and the U.S. will ensure that we have the correct information and can respond fast," the Jerusalem Post quoted him as saying.
The first Iraqi politician to publicly visit Israel, al-Alusi could not have undertaken this visit lightly. After speaking at the same counterterrorism conference on his first visit to Israel in 2004, extremists murdered his two sons, Ayman 30, and Gamal, 22, apparently as payback for his violating the historic taboo in Iraq against advocating cooperation with Israel.
Minutes after his sons were murdered, al-Alusi told reporters: "Even if these terrorists try to kill me again, peace is the only solution. Peace with Israel is the only solution for Iraq. Peace with everybody, but no peace for the terrorists."
He continued to build his Iraqi Nation Party, which his fallen sons had helped establish, and was elected to Parliament as an independent.
But this past Sunday, the Iraqi Parliament suspended legal immunity for al-Alusi, and he now could face prosecution for the "crime" of traveling to Israel to participate in the conference.
Many of his fellow Iraqi Parliamentarians ganged up on him, but he would not back down. He even publicly called some of them out for cooperating with the Iranian government, which further inflamed them.
Ali al-Adeeb of Iraqi Prime Minister Nouri al-Maliki's Dawa Party opened the session by saying al-Alusi's recent comments might be "part of an undisclosed plan to subdue our proud society to gradually accept what it rejects by principle," according to McClatchy News Service.
Ayad al-Samarrai, of the Iraqi Islamic Party, characterized al-Alusi's visit as a betrayal of his oath of office "as the Zionist Entity is described as an enemy of the State of Iraq in Iraqi law."
Over the weekend, I talked to Esther Kandel, a close friend of al-Alusi's and an anti-terrorism consultant. Kandel, who had just spoken with al-Alusi, says he thinks he could be facing imminent death.
"He believes he will be killed, but he will not stop working toward democracy," she told me. "[He] still goes to his party's office and bravely faces down his enemies in the streets and in Parliament. He desperately needs a voice; his will be silenced."
Clearly, al-Alusi undertook grave risk in traveling again to Israel with the message that international intelligence cooperation is vital to curbing Iran's assaults on democratic values and peoples. And the free world is running out of time to stop Iran from attaining nuclear capability.
In August, al-Alusi told me: "One day we will remember this talk — maybe years, maybe [as soon as] three months, Iran could have an atom bomb — a regime with no respect for human beings, even their own human beings."
Al-Alusi shares the most idealistic goals of the Iraq War. He's a proud Iraqi who has worked toward building a democratic nation that respects the rule of law and is an ally of the U.S. in fighting radical Islamic terrorism. And now, his life hangs in the balance.
For all of the renewed optimism about Iraq as a result of the successful surge strategy, al-Alusi's story is a reminder of how far the country still needs to go. His fate will be a litmus test of our commitment to supporting America's most vulnerable allies in the War on Terror.
This entry was written by Heather Robinson and posted on September 16, 2008 at 12:15 am and filed under Commentary.