Mr. Trump Comes to Pittsburgh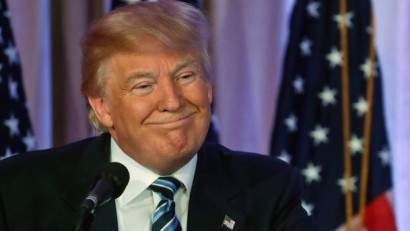 by Heather Robinson
Presidential candidate Donald Trump is coming today to Pittsburgh's Soldiers and Sailors Memorial Hall in Oakland, in the city's university district, where he will sit for an interview with Fox News's Sean Hannity.
The Steel City is Trump's first stop in the keystone state ahead of the Pennsylvania primary April 26th.
Trump's arrival in Pittsburgh has divided the city both literally and figuratively. With Chelsea Clinton also in town to stump for her mom and Pirates and Penguins home games taking place, traffic is expected to be terrible, which already has people grumbling. Many activist groups are coming to protest Trump's appearance including members of WHAT'S UP?!, Pittsburgh, Three Rivers Rising Tide, Fossil Free Pitt, The Fourth Wave, and other groups, which will rally at 4:30pm at Fifth and Bigelow Boulevards, according to the Pittsburgh Post-Gazette.
"What can one say?" said one non Trump-supporting neighborhood woman who plans to vote for John Kasich even if she has to write him in. "The traffic is creating a personal problem for me, but I don't hold it against Trump or anyone personally. He is sincere in making a big run. They all are and I wish them luck."
Others out for dinner in Oakland – the university district where Trump will speak – were sounding anti-Trump notes for the most part.
"The media just keeps on perpetuating Trump's insanity by giving him coverage every time he says something dumb," said Lynn, an active duty member of the military who asked his name not be used.
This entry was written by Heather Robinson and posted on April 13, 2016 at 11:27 am and filed under Blog.