Jon Voight Calls it Like He Sees It at ZOA Dinner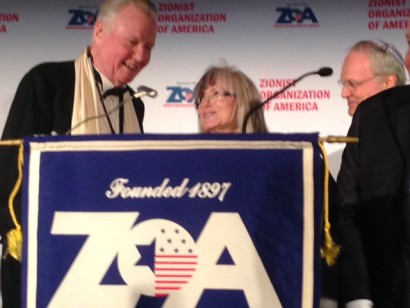 by Heather Robinson
Hollywood actor Jon Voight, an outspoken supporter of Israel, didn't mince words at this year's annual Zionist Organization of America (ZOA) Justice Louis D. Brandeis Award dinner November 22nd. He spoke of how he believes "Israel is in a very difficult situation, especially now that Barack Obama has turned his back on Netanyahu."
Receiving the Adelson Defender of Israel Award from Sheldon and Miri Adelson, philanthropists who support pro-Israel charities and Republican politicians, Voight  expressed hope to see a Republican win the 2016 Presidential election. "We must pray that 2016 will bring a Republican to the White House," he said. "Someone who can undo all these errors and become Israel's ally once again. I'm certain people in this room will be instrumental in bringing this about and I'm proud to be among them."
Voight, whose acting career reached its apex in the 1970's when he starred in such classic films as "Deliverance" and "Midnight Cowboy," is a longtime Israel supporter and conservative political activist.
In remarks at tonight's dinner that managed to be at once panoramic and succinct, Voight offered an overview of Israel's various wars, and of efforts to press Israelis to concede land to Palestinians in the 1990's that have continued until today.
Israelis have fought war after war in self-defense, then struggled to live amid a constant terrorist threat, Voight said. "All these wars have been in self-defense, and at great cost. So many young men killed and maimed … So many citizens maimed and killed in terrorist attacks as they established the most humane and democratic government in the Middle East."
Voight offered an overview of the 80's and 90's in which the "idea of a two state solution took hold. First with Clinton, and then it continued with Bush and now Obama. Always at base, it was a plan concocted to fulfill Arab dreams of pushing Israel into the sea."
He attributed the push for a peace process and two state solution to two principal factors: "The influence of Arab oil on Europe and anti-Semitism."
"These put pressure on Israel to give up land," he said. "But if they do, it's no mystery what will happen." He encouraged listeners to read Caroline Glick's book, "The Israeli Situation."
More to come.
This entry was written by Heather Robinson and posted on November 23, 2015 at 12:00 am and filed under Blog.