Southern Sudanese Women Call for Peace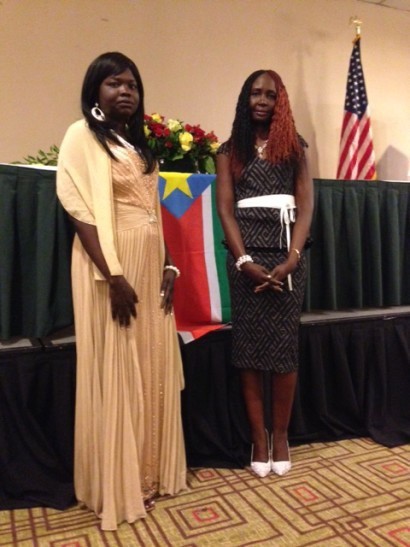 by Heather Robinson
Update: This week, South Sudan's government said it will host former South Sudanese Vice President Riek Machar at a regional peace conference to take place in Juba, South Sudan's capital, November 19th.
South Sudan, the world's newest nation, was plunged into conflict in December 2013 as a result of a fight between South Sudan's President Salva Kiir Mayardit and Machar, and since then, conflict has continued along the ethnic fault lines of Kiir's Dinka and Machar's Nuer tribes. Machar has not been seen in the capital since, but in September came to New York, where he met with South Sudanese-American activists at the Hotel Pennsylvania in midtown Manhattan (please see report below).
Jacinta Elioba, a Queens-based human rights activist who is quoted in the story below, this week told this reporter that five of her close relatives were massacred in South Sudan since Machar's September visit to New York. Two of them were children under the age of 10. This week she described a "cycle" of revenge killings taking place in South Sudan and said, "This is the worst war now because now we are all Southern Sudanese … No one else can be blamed … These leaders need to honor the peace agreement and they need to change."
On a personal note, Elioba, who joined escaped slave and Sudanese-American human rights activist Simon Deng on hunger strike this summer to raise awareness about the slaughter of civilians in her native land, added, "A lot of families are hurting, but if we are going to revenge these deaths, it is not going to bring peace. My beautiful aunt—she was killed and I just found out. We must honor our loved ones in other ways, not revenge killing. It hurts terribly but if you kill another 100 people you will not bring them back."
When the Elephant Fights, the Grass is the One That Suffers
Heather Robinson
Dr. Riek Machar, South Sudan's former vice president, addressed a group of South Sudanese-Americans at the Hotel Pennsylvania in Manhattan in September. Machar, who had met that week with U.S. Secretary of State John Kerry, had traveled to New York to participate in a summit of world heads of state and government organized by United Nations Secretary General Ban Ki Moon.
Listeners, all Southern Sudanese-Americans, most of whom have family remaining behind in South Sudan, numbered in the hundreds. They had traveled from as far away as Nebraska and Ontario, Canada, to hear Machar and to impress upon him the need for South Sudan's leadership, including South Sudan's President Salva Kiir Mayardit, and rebels led by Machar, to respect a peace agreement signed in August.
South Sudan's latest civil war has raged since December 2013. It began as a conflict between Machar and Kiir, and spilled out from the capital, Juba. By some estimates, the fighting over the past 23 months has claimed between 50,000 and 100,000 lives, though failure on the part of international agencies, including the United Nations, to attempt to count the dead has resulted in inability to document the mass murder that human rights advocates say has taken place. Some experts feel the lack of international attention toward this conflict has contributed to an atmosphere in which combatants have continually acted with impunity against civilians.
At the Hotel Pennsylvania, South Sudanese-American women, some in elegant, full length formal dresses and brightly colored scarves and skirts, comprised a large portion of the crowd, and spoke with passion and conviction about the need to stick up for civilians who have disproportionately been victims in the conflict.
Machar opened his remarks, which were preceded by the U.S. and South Sudanese national anthems, by recognizing those who had traveled far, from throughout what he termed the "Diaspora."
He stressed that the most important aspect of the peace agreement, to which he is one signatory, to his forces is "commitment to establish a federal state in South Sudan."
The crowd greeted each mention of federalism with applause. The crowd also applauded loudly and cheered when Machar said, "We must ensure term limits are not extended."
But before his speech, numerous Southern Sudanese-Americans who had come to hear him, while respectful toward him, also expressed frustration over what they say is his and other Southern Sudanese leaders' failure to halt the violence completely.
Listeners included Jacinta Elioba, a peace advocate and Queens resident who in August traveled along with Southern Sudanese-American human rights activist and former Sudanese swimming champion Simon Deng to Addis Ababa to press South Sudan's leaders for peace.
Machar made himself available to meet with the peace activists. Sudan's President Mayardit did not.
Elioba says she is appealing to both Machar, as well as Mayardit, to stop the violence that has claimed tens of thousands of lives in the past year and a half, disproportionately hurting civilians, with bone-chilling atrocities against women and children having been documented.
She asks President Obama to use all his leverage – short of boots on the ground – to ensure the warring parties honor the peace agreement they signed in August.
"Nobody don't want to hear no gun," she said. "We just need someone with oversight to make sure they do the right thing."
When Elioba met with Machar, she viewed herself as having a special responsibility to represent the "voice of women." She says she told him, "Any leader in any country, you are supposed to protect your people first.
"This time around I am more hurt because we are all South Sudanese killing each other."
She added that she stressed to Machar the disruptive and damaging effects of the fighting on South Sudan's children and asked him how he and other leaders could sleep at night.
"We fought 21 years ago … We are supposed to be talking about how to better ourselves … Now our children aren't going to school. The leaders are saying we want every kid to go to school. We know it isn't true; I got angry."
When I asked her what Machar said in response she replied, "He said we are working for peace but we need to make sure we have a system in place, and law."
Both South Sudan's present government and the rebels signed, she said, but the conflict still rages. "They have been saying since last year, 'Oh, we condemn this,'" said Elioba. "How are you going to keep condemning and the same thing keeps happening?"
To raise a spotlight on the plight of South Sudan's civilians suffering from the war, Elioba joined Deng on a hunger strike in June. Deng went without food for forty five days, Elioba for two weeks.
Others who turned out to hear Machar, too, lamented the conflict's disproportionate toll on civilians.
"We are focusing on innocent civilians, the children," said Nyachan Thach, 36, a social worker and representative of South Sudan Women United. "As a mother I feel great sympathy for them."
Last year the United Nations Security Council declared South Sudan's food crisis the world's worst,projecting up to 50,000 children could die of hunger.
"I came from Canada," said Nyawal Chang, 39, a clothing retailer from Kitchener, Ontario who also serves as a leader in South Sudan Women United, a U.S.-based, pro-peace activist group dedicated to raising awareness about the plight of South Sudanese civilians and promoting peace. "We are supporting our people. We have family suffering there. Even if we are American or Canadian citizens, how can we be happy here when our relatives there are suffering?"
Some said they had turned out to hear Machar in hopes he would honor the peace agreement, and called on President Obama to continue to oversee that both sides stick to the peace agreement.
"I came because there are people who just signed a peace agreement and we are here to listen and then ask for peace," said Bismark Elfayous, 49, who works in transportation in Bridgeport, Connecticut. "South Sudan came as a result of the U.S. government. We are happy the U.S. recently brought the two sides together to sign a peace agreement. The U.S. should continue to keep an eye on [the situation in terms of] implementation of the peace agreement. There should be a mechanism for monitoring both sides; we are still pressing the U.S. to put that in place."
"I'm here because I heard the leaders are here; they said they signed a peace agreement with paper and pen but we need implementation," said Elfayous's wife Esterina Peterbilal, 51, a homemaker and student. "These warring parties – when they sign an agreement they need to mean it. We need development. We need hospitals, schools, private business, equality, justice."
Some stressed that, despite much recent U.S. media coverage suggesting that Western involvement in Sudan has backfired, South Sudan does need help from the United States.
"We need to start at the top and educate people that you talk and do not force your opinions or beliefs on others," said Dr. Regina Nataniel, a South Sudanese-American chaplain for the police department in Portland, Maine. "Foreign help is important, in a wise way. Like the way Obama brought Hillary into his cabinet. It's not easy, but people need to learn how to reason and work out differences without hate, and this is a matter of education."
Nataniel added, "Is tribe so important? We are all Southerners. I care about the people of South Sudan and we need a sense of national patriotism."
Peterbilal lamented the heavy toll warring leaders and soldiers have inflicted on an unarmed civilian population.
"When the elephant fights, the grass is the one that suffers," she said, citing an African proverb. "If we women don't speak up, we will disappear."