Rubio Sparks Adelson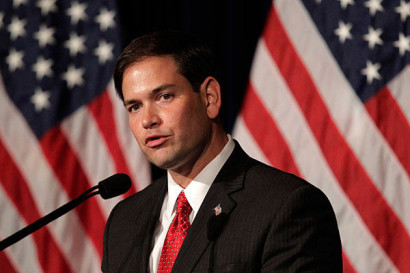 by Heather Robinson
Greetings from Las Vegas, where I'll be covering the Republican Jewish Coalition's spring meeting, among the largest gatherings of conservative-leaning activists in the U.S.
With an 800+ turnout this year, the RJC leadership meeting is the largest in history, an indicator, perhaps, of increased dissatisfaction among a growing segment of American Jews with the current administration's policies toward Israel and other issues.
On a personal note, it looks like I'm not the only pro-Israel American patriot whose interest Florida Senator and 2016 Presidential contender Marco Rubio has sparked.
It seems the Senator's moral clarity and steadfast support of Israel have caught the eye of casino mogul and Jewish-American citizen activist Sheldon Adelson as well.
Mr. Adelson has a keen eye for success and is no doubt shrewd to recognize that Rubio is going places. Though with help from an oracle, your humble correspondent saw it early on as well.
In a race that will certainly contain a lot of Clinton-era baggage, it will be a pleasure to see a fresh face.
More to come.
This entry was written by Heather Robinson and posted on April 25, 2015 at 4:51 am and filed under Blog.