Iraqi Parliamentarian to President Obama: Do Not Give Up on Iraq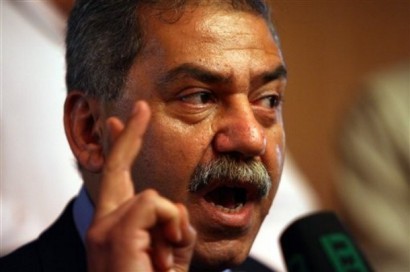 by Heather Robinson
In a phone interview from Iraq last week, Iraqi Parliamentarian Mithal al Alusi thanked U.S. President Barack Obama for his decision to conduct air strikes against ISIS and urged the U.S. President to "make it clear to extremists the United States will never give up on the region."
A Sunni Muslim, Alusi has a history of voicing controversial views, as well as of making decisions that have frequently angered extremists. Appointed to head Iraq's de-Baathification commission after the fall of Saddam Hussein, he publicly advocated normalized relations between Iraq and Israel, and traveled to Israel to attend a counter-terrorism conference there in September 2004. In February 2005, terrorists murdered his two grown sons and their bodyguard, apparently as payback for Alusi's decision to travel to Israel.
Refusing to be intimidated, Alusi stayed in Iraq, working to build the Democratic Nation Party, which promotes human and civil rights, religious freedom, and cooperation among democracies in fighting terrorism. A Sunni-born secularist, he was re-elected in March 2014 to Iraq's Parliament for a third term despite campaigns of intimidation and propaganda against him by Islamists.
Asked whether last week's U.S. air strikes against ISIS to protect minorities and Americans in Kurdistan are, as some commentators have suggested, "too little, too late" to save Iraq from descending into Islamist extremist rule and to protect civilians and democratic forces there, Alusi said, "It is not too late. It is never too late to do the right thing."
Even before last week's announcement that Iraq's Kurdish President Fouad Massoum had appointed Haider al Ibadi Prime Minister, Alusi said that, in order to foster rule of law in Iraq, the U.S. must throw its weight behind a "new government" in Baghdad.
"The key is Baghdad," said Alusi. "We need a new government. We need U.S. help to produce an Iraqi government to take responsibility for the new Iraq."
Of Massoum, who was elected last month by Iraqi leaders, Alusi said, "He is a man with good and long experience. We need to give him support, to push him more and more. … You can be a Superman but if you are alone you will be weak. But with support from good people, more people will be with you."
Of the President's recent statements that air strikes and other intervention in the region will be "long term," Alusi said, "Obama says it will be a long term process. I agree with him if he means the U.S. can't leave the region. Long-term process means we should not accept an Iranian nuclear bomb. Long-term process means we should not accept Hamas and Hezbollah to be international terror organizations."
While he appreciates the air strikes, Alusi believes President Obama and other pro-democracy forces must re-engage in supporting democratic forces in Iraq if the intervention is to be meaningful in the long term.
"The air strikes are important; thank you Mr. Obama," he said. "But is it just a show?"
While he and other Iraqis are grateful for U.S. airstrikes to protect the Yazidi people, Christians and others have been brutalized at the hands of Islamist terrorists, both Sunni and Shii, for many years, and their persecution intensified after the U.S. withdrawal, Alusi pointed out.
He stresses the need for cooperation among democracies to fight terrorist forces in the region, many of which he says are funded by Iran. He also emphasizes the need to empower Iraqi moderates. And he says the U.S. has repeatedly erred by trying to engage with extremists, including Islamists like former Iraqi Prime Minister Nouri al Malki, who he believes is tied to Iran, and has no interest in democracy. (In an April, 2012 interview with this reporter Alusi described Maliki as a "tool of Iran").
Alusi also spoke out in March 2010 about his belief that there has been widespread corruption of Iraq's government and elections by outside forces, including Iran.
"The U.S. administration didn't learn," Alusi said. "They are listening to extremists and they think they will have a moderate direction? They need to talk to everybody. I like to hear President Obama say long term, but long-term commitment to democracy and a stable Iraq will require partners.
"Who will be the United States' partners? ISIS? Hezbollah? Hamas? Come on.
"My question is, long term, what does long-term [commitment] mean and how will we do it? That is what we need to hear from President Obama."
Alusi believes the United States should support the Kurdistan Regional Government (KRG) and arm them. Also, he thanks Kurdistan for sheltering 1.5 million Iraqis, including many Christians, who sought refuge from Islamist violence in Iraq over the past several years.
"Many thanks to Massoud Barzani—president of the KRG—they did open the doors to say, 'Come,' and we have 1.5 million Iraqis in the KRG," said Alusi, adding, "The international community needs to say they will help."
Of the KRG, Alusi added, "We need to give them weapons to fight ISIS. They are good partners. But the key is Baghdad. If you can't help to have a working government you can't do anything."
America, Alusi says, "left a big vacuum in Iraq. We must stop Islamist fascists; otherwise, we are repeating what happened in Germany. What was happening was clear and it led to killing millions.
"What is happening now will kill millions, if we don't stop the fascists."
More to come.
This entry was written by Heather Robinson and posted on August 19, 2014 at 1:34 am and filed under Blog.