South Sudan President says new nation will place its embassy in Jerusalem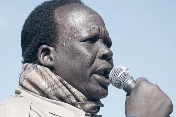 The Sudan Tribune recently reported that Salva Kiir Mayardit, the president of the newly formed nation of South Sudan, told visiting Knesset member Danny Danon that the future South Sudanese embassy in Israel will built in Jerusalem. He also pledged to pay a visit to Israel.
At present, several thousand South Sudanese–who are Christians or animists, or practitioners of native religions–reside in Israel. The state of South Sudan was established by popular vote in July.
New York-based human rights leader Simon Deng (pictured above), whose historic 250-mile "Freedom Walk" from the United Nations in New York to the Capitol in Washington D.C. raised the attention of then-Senator Hillary Clinton,  says this pledge reflects South Sudan's solidarity with Israel.
"The City of David is a city undivided and that happens to be Jerusalem," Deng told me earlier this month. "For South Sudan to have our embassy side by side with [Israel's] government buildings [will be] solid evidence of our unwavering support and relationship with the Jewish State."
Deng also helped raised the issue of Southern Sudanese independence to President Bush, who brokered a Comprehensive Peace Agreement between Sudan's Muslim North and Christian South that ended a several-decades-long civil war that some consider a genocide of Christians and others perpetrated by extremist Muslims.
More to come.
This entry was written by Heather Robinson and posted on September 12, 2011 at 9:57 pm and filed under Blog.