Standing Up to Ahmadinejad at the U.N.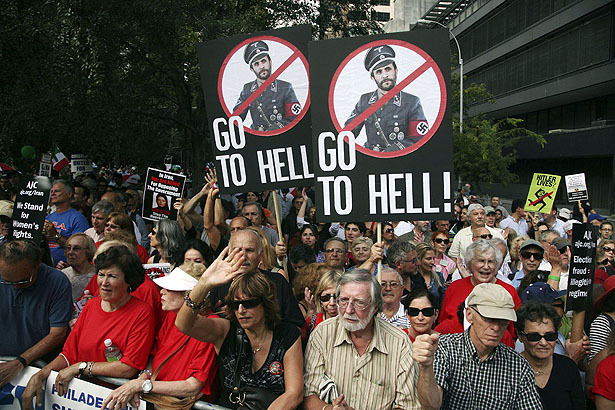 Crowds gathered yesterday at the U.N.'s Dag Hammarskjold Plaza to protest the appearance at the United Nations of Iranian President Mahmoud Ahmadinejad. Former New York Mayor Rudy Giuliani addressed the crowd, saying: "We must confront tyrants, oppressors, bullies, and terrorists as early as possible." These words are not idle from Giuliani, who as New York state attorney demonstrated his bravery and moral clarity in aggressively prosecuting arms dealers who supplied terrorists as well as the heads of organized crime in New York.
The more outrageous Ahmadinejad's rhetoric becomes (he took his opportunity to address the U.N. to blame the United States for Muslim extremists' attacks on the World Trade Center), the more most of the world sits back in paralyzed denial, convinced this lunatic and the mullahs either cannot, or should not, be stopped from acquiring nuclear weapons.
It is a terror tactic to stand there and threaten the world, and it seems that at this juncture, we – including our President – must decide if we intend to sit back in paralysis or confront the bully.
This entry was written by Heather Robinson and posted on September 23, 2010 at 8:55 pm and filed under Blog.