Long Live Carla Bruni and Sakineh Mohammadi Ashtiani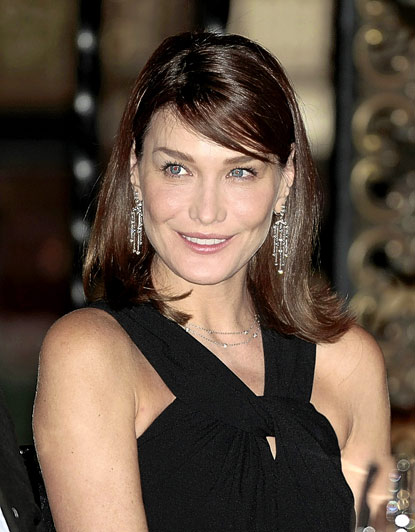 Disturbing news out of Iran this week as the regime-backed newspaper daily Kayhan says Carla Bruni, first lady of France, deserves to die for her views.
Taking a stand for the rights of Sakineh Mohammadi Ashtiani, a 43-year-old mother of two who was sentenced by an Iranian court to death by stoning for adultery, Bruni joined other French celebrities in signing a petition for Ashtiani's release.
The Iranian regime recently changed Ashtiani's sentence from stoning to hanging. Her two children–daughter, Farideh, 16, and son, Sajad, 20–have appealed to the international community: 'Please help end this nightmare and do not let it turn into a reality. Help us save our mother.'
Like many a totalitarian regime before it, Tehran's use of tried and true tactics–intimidation, brutality, and disappearance of the accused–to gain "convictions" and repress its population is well-documented. That makes these children's stand on behalf of their mother especially brave.
Last month Iranian authorities put this woman on a state-run TV program to "confess." According to the UK Guardian, "Speaking shakily in her native Azeri language … Sakineh Mohammadi Ashtiani told an interviewer that she was an accomplice to the murder of her husband and that she had an extramarital relationship with her husband's cousin. Her lawyer told the Guardian last night that his client, a 43-year-old mother of two, was tortured for two days before the interview was recorded in Tabriz prison, where she has been held for the past four years."
The Guardian story continues, "Amnesty International condemned the 'so-called' confession and said the independence of Iran's judiciary was 'tattered' by the broadcast. 'This makes a complete mockery of the judiciary system in Iran,' said Drewery Dyke of Amnesty's Iran team. 'Iran is inventing crimes … it is an unacceptable practice that flies in the face of justice.'"
Ashtiani has already received 99 lashes for her alleged "illicit relationship."
Apparently, fifteen other people in Iran face the prospect of death by stoning. Countless others, including political dissidents whose only "crimes" are holding anti-regime opinions and voicing them, languish in Evin prison and other torture facilities.
Not that adultery should ever be a criminal matter, or that even an accomplice to murder should ever be executed by stoning, but I would not be surprised if the charges against this woman were largely or entirely fabricated and her confession coerced. In her book, "Between Two Worlds: My Life and Captivity in Iran," released earlier this year, Iranian-American independent journalist Roxana Saberi chronicles her arrest and intimidation into forced confession by the Iranian regime. Saberi, who was eventually released, chronicles in the book her agonized deliberation as to whether to bend to the will of her captors or to take advantage of her limited contact with her parents, who were agitating from the outside, to appeal to the media.
She finally decided, after cooperation (which included falsely denouncing as a spy a man she knew, who was living overseas,) did not yield her release, to signal her parents to appeal to international media about the false accusations against her. The latter approached worked.
As a journalist, I usually refrain from direct political activism and from signing petitions. But the powerful words of Marina Nemat, an Iranian dissident who was tortured and raped in Tehran's Evin prison, have convinced me to sign on to this one.
This entry was written by Heather Robinson and posted on September 1, 2010 at 5:55 pm and filed under Blog.