One for the Other Thumb – Fast, Hard, Creative and Clean!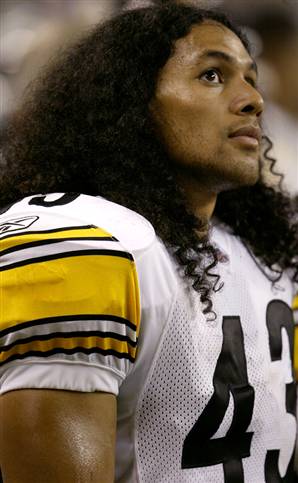 Hard, fast, and creative – but not dirty. That's the characterization of the Pitsburgh Steelers's play, and specifically that of safety Troy Polamalu – that all of us here in the 'Burgh are hoping will carry our home team to victory this evening in Superbowl 43.
If the Steelers win tonight, it will be their 6th Superbowl Victory and due in no small measure to the effective play of Quarterback "Big" Ben Roethlisberger and Safety Troy Polamalu, both great sportmen as well as players. It will also make the Pittsburgh Steelers the first team in history to win six Superbowls. For a gal like me, who recalls from childhood the mantra "One for the Thumb in '81," and who waited alongside other Steelers fans for 25 years for that fifth Superbowl victory, this is exciting stuff. The city is festooned in black and gold, tables are stacked with chips, I.C. Light and Mineo's pizza. Let the game begin!
I am fortunate to be watching the game tonight in Polamalu's neighborhood, where he lives in a modest home in keeping with his down-to-earth philosophy of life. Known for his choice to forego partying in favor of quiet time with his wife Theodora and their new baby, Polamalu is deeply religious (Eastern Orthodox Christian) and known for being one of the most cerebral players in the NFL.
Known for his fast, hard, creative and clean play as well as his cascading hair, Polamalu, who is of Samoan descent, is a consummate sportsman. His number, 43, is auspicious we hope, as this is Superbowl 43. Thinking Man, a day trader, student of the world, and armchair pundit whose insights appear here, adds: "Years ago, in the 70's some of the Steelers were actually thought to play a little dirty. But that has changed."
Thinking Man is predicting the Steelers to win, but not by much–perhaps a seven point spread.
This entry was written by Heather Robinson and posted on February 1, 2009 at 7:10 pm and filed under Blog.